One of my favorite things to do at the Museum is to go upstairs to see what the curatorial department is up to.
The other week, I visited David Goist and Olivia Reiff in one of the exhibition spaces to see what they were working on. David is an art conservator specializing in paintings, and Olivia is a curatorial intern for the summer. They had ​Blue ​by Joseph Fiore (1952) out, and were completing its condition report, which is a detailed physical description of a work. David was using an ultraviolet (UV) light to examine its surface. He explained that things like dust and varnish that are invisible to the naked eye can become obvious under a UV light, making it a valuable tool to use when assessing the condition of objects. Different materials on the surface will appear as different colors under the light, and can reveal a wealth of information about the history of an object such as past restorations. Crazy, right?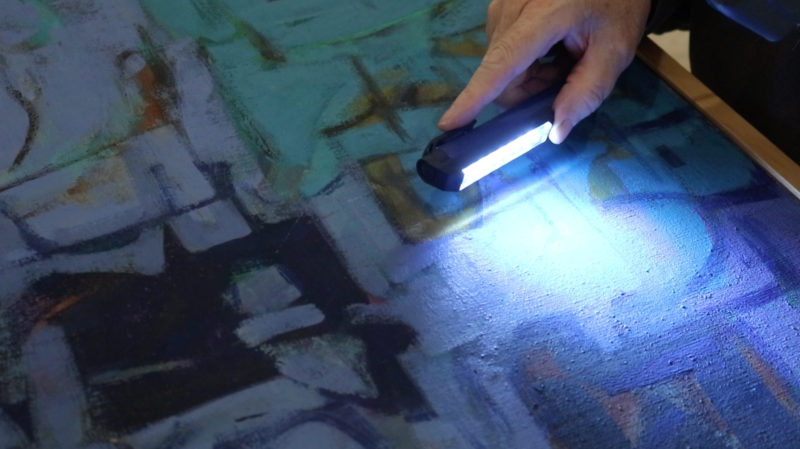 To show me another aspect of their work, they brought out ​untitled ​​by George Bireline (1967). David pointed out some smudges around the edges of the painting. In the video, you can see him using a soot sponge—also used in fire damage restoration—to very gently minimize the visibility of dirt and soot on the surface. Watching him gradually and carefully do this was almost mesmerizing. Check out this video clip!
The Museum's Collection is so extensive, and it's neat to get to see some of it in this way. I really enjoy seeing what the other departments are doing on a day-to-day basis. I find value in learning about all the moving parts within the Museum, especially at this exciting time. Thanks to David and Olivia for letting me hang out with them!
This conservation project was made possible in part by the Institute of Museum and Library Services.
[Joseph Fiore, ​Blue, ​circa 1952, oil on linen, 34 x 40 inches. Black Mountain College Collection, Gift of the Falcon Charitable Foundation, 2010.34.01.21.]
[George Bireline, ​untitled, ​circa 1967, acrylic polymer on canvas, 40 x 144 inches. Gift of Ann and William Cullison, 2014.26.24.]
Words, photography and video by Genevieve Munch, communications intern and student at Virginia Tech.