Dear Museum Members and friends,
Today we honor the memory and legacy of the late Rep. John Lewis, a champion of the arts in furthering justice and understanding.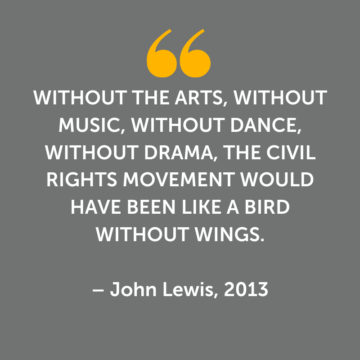 Thank you, Rep. Lewis, for your persistence in so many critical areas, and for your patience and tenacity in bringing the creation of the National Museum of African American History & Culture to fruition. We pledge to work against systemic racism; to continue to promote diversity, equity, access, and inclusion; and to demonstrate that our actions as individuals and as an arts organization respond to our community and to your call. While we've made considerable headway in educating ourselves, diversifying our Collection, and initiating new programs and outreach to the community, we're committed to listening and learning with humility, and we know that we have more work to do.
Music, dance, theater, and visual arts of all kinds can bring people closer together. Despite the current pandemic, I'm heartened to see it beginning to happen in new ways. The arts offer a platform for listening, learning, and dialogue, and present an opportunity to develop understanding of what we as human beings share and where we differ, in order to build a foundation for progress. The Museum presents artworks by artists from a wide spectrum of backgrounds; their work may identify society's successes and failures, and can be beautiful or difficult—or both. These creative expressions can be springboards for important and necessary conversations.
While at this moment our doors are still closed, we're committed to expanding our ability to promote change and understanding in an active, collaborative, and progressive manner. Until we can welcome you back into your Museum, please use our Museum From Home page to mine the Collection and special exhibitions, fly through the galleries, engage with virtual programs for all ages, and engage with us and with one another through the arts.
Sincerely,
Pamela L. Myers
Executive Director