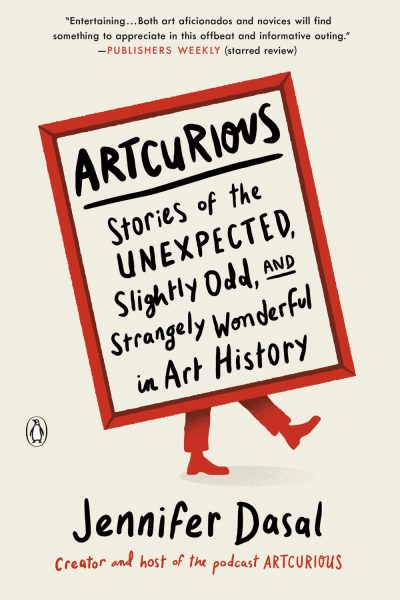 Event Sponsors

ArtCurious: Stories of the Unexpected, Slightly Odd, and Strangely Wonderful in Art History by Jennifer Dasal
We are surrounded by art every day. Claude Monet's water lilies are ubiquitous on scarves and umbrellas. Our cabinets are full of the Campbell's Soup cans that inspired Andy Warhol. Even a urinal can be art, as Marcel Duchamp proved with his ready-made Fountain, which has been called one of the greatest masterpieces of the 20th century. There's so much more to the art world than museums, fancy galleries, and old men in paint-spattered shirts and berets, and Dasal knows that the real gems lie in the stories, especially the ones that never get told. ArtCurious is art history as you've never read it, stories that will shock and entertain, make you question what you thought you knew, and introduce you to unknown characters and hidden histories, conspiracy theories, scandal, and intrigue. The tales—told in her signature charming and accessible style—range from the weird (Andy Warhol collected toenail clippings) to the dark (a British painter might have been Jack the Ripper) to the quietly fascinating (Norman Rockwell might be best known for schmaltzy Saturday Evening Post covers, but he also painted significant works addressing race and social justice).
Since 2016, Jennifer Dasal has been wowing listeners with her wildly entertaining podcast, "ArtCurious," where she delves into the weird and wonderful stories behind the world's greatest artists and artworks. Now, in her first book, she goes even deeper on the questions that have fascinated her listeners and explores fresh mysteries, including seven chapters of all-new material. Dasal, who is also the curator of modern and contemporary art at the North Carolina Museum of Art, tackles her subjects with humor, lively prose, and thorough research, resulting in a book that's as informative, eye-opening, and entertaining as her podcast.
Moderated by author Jennifer Dasal.
Book + Art
This discussion is a place to exchange ideas about readings that relate to artworks and the art world, and to learn from and about each other. Books are available at Malaprop's Bookstore/Café for a 10% discount. To add your name to our Book + Art mailing list, click here or call 828.253.3227 x121.
Contact:

Phone:

828.253.3227
Venue:

Address:

2 South Pack Square




Asheville

,

NC

28801

United States

+ Google Map