Event Sponsors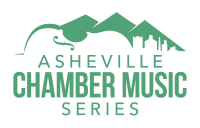 Asheville Chamber Music Series: Rising Star Concert with the Charlotte Piano Trio
The second concert in the new "Rising Star Concert Series," presented by the Asheville Chamber Music Series in collaboration with the Asheville Art Museum, will take place Tuesday, January 3 from 6 to 7:30 pm in the atrium of the Asheville Art Museum. The featured ensemble will be The Charlotte Piano Trio, a group of young artists who represent chamber music excellence in the Charlotte area and are dedicated to performing annual community concerts.
"The response to this new series has been very rewarding," says Polly Feitzinger, Asheville Chamber Music Series Board Member and Program Chair.  "Intended as a performance opportunity for gifted, young North Carolina musicians, these performances enable us to catch rising stars early in their careers.  Our first such concert in September, featured Hendersonville native, pianist Christopher Tavernier who performed to a standing room only audience," she added.
CHARLOTTE PIANO TRIO
Andrew DeWeese, violin
Drew Dansby, cello
Cristian Makhuli, piano
For more information about the Asheville Chamber Music Series please visit: Ashevillechambermusic.org.
Contact:

Phone:

828.253.3227