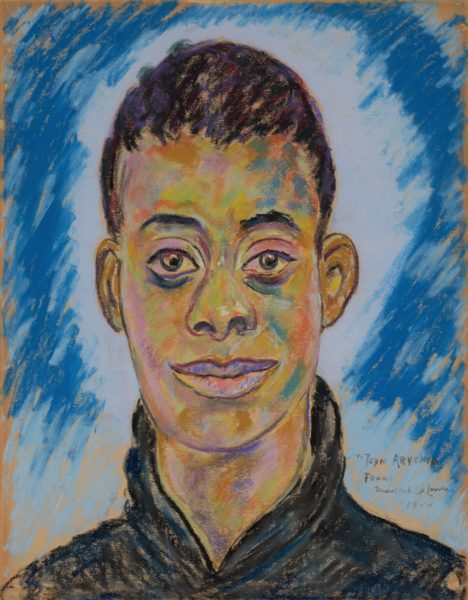 Event Category: In Conversation
Conversation with the Curator: Beauford Delaney's Metamorphosis into Freedom – VIRTUAL
Date:

Thursday, April 22, 2021

Time:

7:00 pm - 8:00 pm

Cost:

Suggested donation: $5 Museum Members, $10 non-members

Tickets:
Featuring more than 40 paintings and works on paper, Beauford Delaney's Metamorphosis into Freedom examines the career evolution of modern painter Delaney within the context of his 38-year friendship with writer James Baldwin. The works in this exhibition, drawn from the collection of the Knoxville Museum of Art, bring into special focus Delaney's intensified experiments with abstraction sparked by his 1955 move to the Paris suburb of Clamart, as well as the ways that his and Baldwin's ongoing intellectual exchange shaped one another's creative output and worldview from their first meeting in 1940 until Delaney's death in 1979. Metamorphosis into Freedom also calls attention to Baldwin's role as "witness" to the painter's evolution, which he deemed "one of the most extraordinary personal and artistic journeys of our time."
For this program, Stephen Wicks, the KMA's Barbara W. & Bernard E. Bernstein Curator and organizing curator of Beauford Delaney's Metamorphosis into Freedom, gives an overview of the exhibition, offers insight into the experience of building the exhibition, and answers questions from the audience.
Presented in conjunction with Beauford Delaney's Metamorphosis into Freedom. Generous support for this program provided by Art Bridges.
ABOUT THE SPEAKER
Stephen C. Wicks is the Barbara W. & Bernard E. Bernstein Curator at the Knoxville Museum of Art (KMA). He has guided the KMA's curatorial department for more than 25 years. He manages the museum's exhibitions program and guides the development of its collections of East Tennessee-related art and international contemporary art. Wicks was instrumental in helping the KMA build the world's largest and most comprehensive public collection of the Knoxville-born painter Beauford Delaney's art. He has organized dozens of exhibitions, including Beauford Delaney and James Baldwin: Through the Unusual Door; Higher Ground: A Century of the Visual Arts in East Tennessee, the first ongoing display devoted to East Tennessee's art history; Awakening the Spirits, the first-ever retrospective devoted to the work of Bessie Harvey; Facets of Modern and Contemporary Glass, which examined the expanding use of glass as a contemporary art material; Lift: Contemporary Printmaking in the Third Dimension; and New Directions in American Drawing. He previously served as curator of collections and exhibitions at The Columbus Museum (Georgia) and is active as a guest curator, juror, lecturer, and writer. He received his undergraduate degree in art history from the University of Tennessee, his graduate degree in art history and museum studies from Case Western Reserve University, and was awarded back-to-back Cleveland Museum of Art fellowships.
In Conversation
Hear from and interact with artists, experts, filmmakers, performing artists, poets, writers, and other special guests. To add your name to our In Conversations mailing list, click here or call 828.253.3227 x133.
Contact:

Phone:

828.253.3227