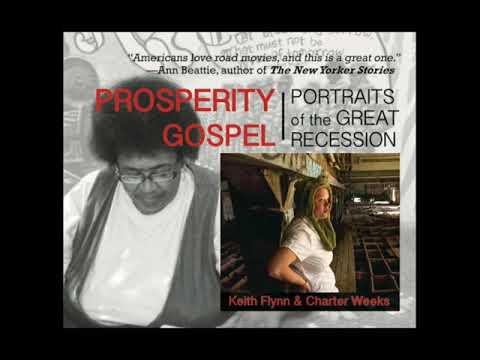 Event Sponsors

Discussion Bound: Prosperity Gospel: Portraits of the Great Recession – HYBRID
The Prosperity Gospel: Portraits of the Great Recession is a project done in collaboration with the writer, Keith Flynn, and photographer, Charter Weeks, documenting the effects of the Great Recession on the individual lives of people living in Appalachia, within a 75 mile radius of Asheville, North Carolina. The book is organized in four parts: Profiles of the Working Poor, Working Around It, One Crisis from Catastrophe, and Where the Money Goes. There is a heartbreaking and clear understanding throughout that there is a fluidity between these categories, that economically speaking, the safety net is full of holes. Along the way, Flynn and Weeks met a roster of proud Appalachian people including couples, religious believers, Native Americans, lovers, outlaws, small business owners, parents and preachers, struggling to imagine a future for themselves, doing what it takes to keep hope alive. But Prosperity Gospel is much more than a book of "hard luck stories."
The authors are not ascribing the fortunes of their subjects to good or bad luck; resisting that demoralizing shrug, they lay blame squarely where it belongs: on structural inequities that reached catastrophic proportion in the lives of these individuals. This is a book about people surviving the massive plundering of the American economy that brought about the Great Recession of 2008. Prosperity Gospel is not about what happened in 2008, however, but about its consequences, about what is still happening, now: in a word — if the word is used honestly — history, a history that leads on to continuing struggle and back to a still unpunished crime: the mendacity, thievery, and fraud of politicians, banks, and corporations.
Moderated by author Keith Flynn, and Jay Bonner, Associate Head, Asheville School. Participants will gather in-person; moderators will Zoom in virtually.
Book + Art
This discussion is a place to exchange ideas about readings that relate to artworks and the art world, and to learn from and about each other. Books are available at Malaprop's Bookstore/Café for a 10% discount. To add your name to our Book + Art mailing list, click here or call 828.253.3227 x121.
Contact:

Phone:

828.253.3227
Venue:

Address:

2 South Pack Square




Asheville

,

NC

28801

United States

+ Google Map