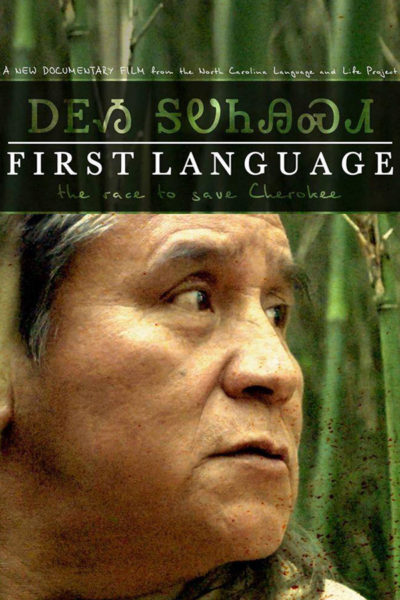 Film: First Language
Three screening dates:
Saturday, November 20, 2021 @ 2:30pm
Thursday, December 16, 2021 @ 7pm
Sunday, February 20, 2022 @ 2:30pm
The Cherokee language was spoken in North America thousands of years before the arrival of Europeans and is still used today by the Eastern Band of Cherokee Indians in the mountains of North Carolina. However, this fascinating language is now endangered, with the final generation to learn the language in the home now reaching middle age and the number of native speakers dwindling. In addition to long-standing efforts by the tribal schools and a summer language camp, a total immersion preschool and elementary school offers fresh hope that the Cherokee people may retain this vital component of their history and heritage. This Emmy award-winning film documents the extraordinary fight to rescue the very heart of Cherokee identity.
In English and Cherokee with English subtitles. Presented in conjunction with A Living Language: Cherokee Syllabary and Contemporary Art.
Watch the Trailer
Films
Drop in to screen art films, films that relate to artists and artworks in our galleries, and films about the ins and outs of the art world.
Contact:

Phone:

828.253.3227
Venue:

Address:

2 South Pack Square




Asheville

,

NC

28801

United States

+ Google Map