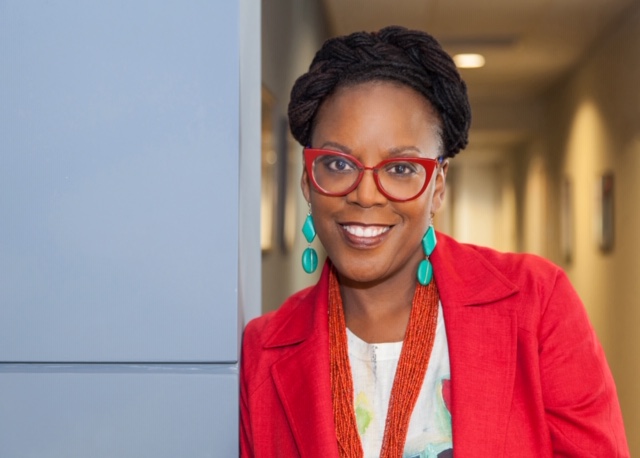 *SOLD OUT* Informance + About People, About Place Poetry Workshop
This program is sold out. To add your name to our waiting list, please call 828.253.3227 x122.
Museum Members: Help us kick off programming for our grand reopening with a morning program featuring Appalachia Now! artist Glenis Redmond.
Start the morning with an informance, Redmond's signature informal performance and craft-talk, in which she shares stories and poems about her creative journey. Her poems chiefly center on people and place—such as her military family's migration from South Carolina to many points across America in the 1950s through the 1970s—as well as poverty, racism, and a yearning to belong. Muse, be inspired, and ask questions as you travel and bear witness to this journey through multiple cultural and emotional terrains.
After a coffee break, continue the morning with an intergenerational workshop. Redmond will prompt and inspire you to delve deep within your own emotional territory in order to excavate and explore. Then, use craft elements to glean what you have retrieved during your poetic dig, and trust the process as she gently guides you on how to turn raw emotional material into tightly crafted, powerful, and meaningful poems.
Presenter Glenis Redmond is the poet-in-residence at the Peace Center in Greenville, SC, and at the State Theatre in New Brunswick, NJ. She is also a Kennedy Center teaching and traveling artist. In 2016, she traveled to Muscat, Oman, to teach a series of poetry workshops and perform poetry for Black History Month at the request of US State Department. In 2014–2016, she served as the mentor poet for the National Student Poets Program to prepare students to read at the Library of Congress, the Department of Education, and for First Lady Michelle Obama at the White House. Redmond cofounded WordSlam, the youth slam movement in Asheville, NC in 2007; founded the first Greenville Poetry Slam in 1995; and is a two-time top 10 finalist at the National Poetry Slam. She believes that poetry is a healer, and she can be found in the trenches across the world applying pressure to those in need—one poem at a time. Visit her online at glenisredmond.com.
Space is very limited; pre-registration is required by April 12. For more information or to register, call 828.253.3227 x122.
Planned in conjunction with Appalachia Now!; presented in partnership with Asheville School.
Performances
Music, dance, performance art, and other live performances bring artworks in our Museum's Collection and special exhibitions to life. Performances include discussion of the intersections between art forms. To be added to our Performances mailing list, click here or call 828.253.3227 x124.
Contact:

Phone:

828.253.3227
Venue:

Address:

360 Asheville School Rd




Asheville

,

NC

28806

United States

+ Google Map