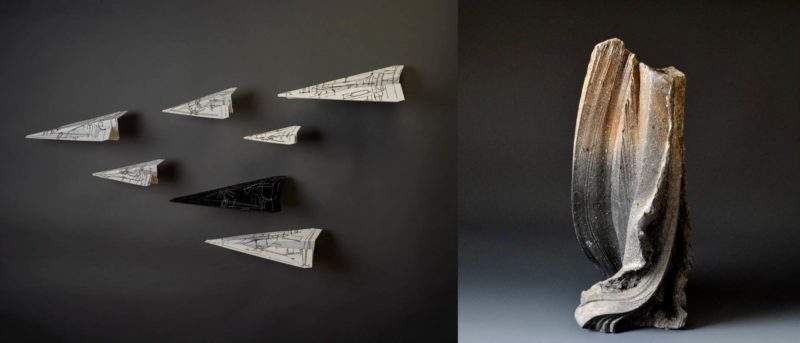 River Arts District
Help us kick off programming for our grand reopening with an afternoon day trip to the River Arts District! This trip features studio visits with two artists whose work will appear in Appalachia Now! An Interdisciplinary Survey of Contemporary Art in Southern Appalachia.
As a second-generation glass maker, Hayden Wilson has been around glass his entire life. Now a professional glass blower and caster, he has been an assistant instructor at the nearby Penland School of Craft and the Pilchuck Glass School in Stanwood, WA, and manages the North Carolina Glass Center's hot shop. His utilitarian vessels and steel/cast-glass sculptures convey an aesthetic of clean lines and are inspired by modern design.
A native of Osaka, Japan, Akira Satake moved to the US in 1983 and has been a WNC resident since 2003. A recipient of the National Award for Excellence in Contemporary Clay, he has also been featured on PBS's A Craftsman's Legacy. His ceramics seek to bring out the beauty of clay through a collaboration between the artist, his materials, and natural forces. We conclude the afternoon with tea and dessert from Café Yuzu, and time to visit neighboring studios in Riverview Station.
Launching the new and expanded changing exhibition spaces when the Museum reopens later this spring, Appalachia Now! will explore the union of tradition and modern perspectives through contemporary artistic voices in this region. Building upon the Museum's mission of collecting and interpreting 20th- and 21st-century American art, the exhibition situates artists not only within a regional and national dialogue but also within the rich history of creativity and art-making historically associated with Appalachia.
Space is limited; register by March 27. For more information or to register by phone, call 828.253.3227 x122.
Art Travels
The Museum offers a variety of art excursions domestically and abroad, as well as local and regional day and overnight trips designed to enhance Museum Members' and visitors' experiences with inspiring, contemporary art. Our Art Travels program is very popular, and trips often sell out quickly! If you would like to receive more information about upcoming trips as soon as available, click here to be added to our mailing list or call 828.253.3227 x124.
Contact:

Phone:

828.253.3227