50 Years of Western North Carolina Glass
The James D. & Judith S. Moore Collection
Dates:
November 14, 2019–November 2, 2020
Location:
Judith S. Moore Gallery
James D. & Judith S. Moore have been collecting studio glass from Western North Carolina for the past 40 years. In honor of our reopening, the Moores have generously donated or promised much of their stunning collection to the Museum. This inaugural exhibition in the Judith S. Moore Gallery highlights the beauty of their collection and illustrates the depth with which they have collected certain foundational artists in the Studio Glass Movement.
50 Years of Western North Carolina Glass is organized by the Asheville Art Museum. This exhibition is supported in part by the Judy Appleton Memorial Fund.
If your institution is interested in borrowing this exhibition, please contact our curatorial staff at 828.253.3227 or email curatorialgeneral@ashevilleart.org.
Selected works from the exhibition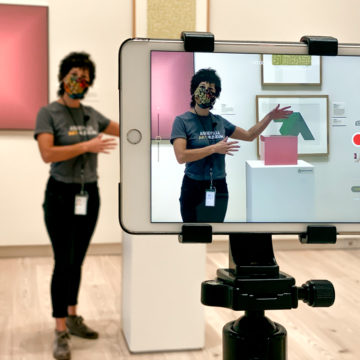 Book a Virtual Visit
Groups of students, adults, and family or friend groups with children are invited to schedule an interactive Virtual Visit to the Museum! Led by volunteer docents with Museum staff, our inquiry-based, conversational Virtual Visits introduce the Museum's galleries with a 3D tour and challenge visitors to hone their observation skills. Click to learn more about Virtual Visits for students, Virtual Visits for adults, or Virtual Visits for families.
Learn More