A Hand in Studio Craft
Harvey K. Littleton as Peer and Pioneer
Dates:
January 19–September 5, 2022
Location:
Judith S. Moore Gallery
Harvey K. Littleton (Corning, NY 1922–2013 Spruce Pine, NC) founded the Studio Glass Movement in the United States in 1962 when, as a teacher, he instituted a glass art program at the University of Wisconsin in Madison, the first of its kind in the US. He taught the next generation of glass artists—who taught the next—and his influence can still be seen today. But before he dedicated himself to the medium of glass, Littleton studied industrial design, ceramics, and metalwork at the University of Michigan and the Cranbrook Academy of Art in the late 1930s and early 1940s. He met his wife Bess Tamura Littleton, a painting student, at the University of Michigan. Over the course of their careers, Harvey and Bess collected artwork by their fellow artists and amassed an impressive collection from the early days of the Studio Glass Movement and the height of the American mid-century Studio Pottery Movement.
The selection of works on view highlight recent gifts to the Asheville Art Museum's Collection and loans from the Littleton family. This exhibition places the Littleton's collection into the context of their lives, as they moved around the United States, connected with other artists, and developed their own work. This exhibition is organized by the Asheville Art Museum and curated by Whitney Richardson, associate curator.
Selected works from the exhibition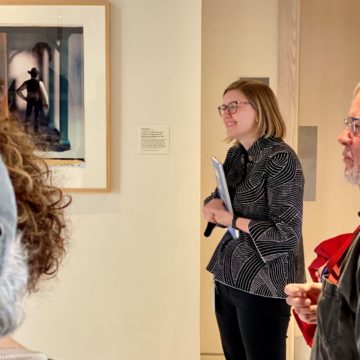 Group Tours
Groups of students or adults are invited to schedule a tour of the Museum's Collection or special exhibitions. Our inquiry-based group visits, led by volunteer docents or Museum staff, challenge visitors to hone their observation skills.
Learn More