Artistic Tribute
Representation of the Athlete
Dates:
July 9–October 4, 2021
Location:
Explore Asheville Exhibition Hall
Artistic Tribute: Representation of the Athlete pays homage to the historic Olympic tradition of including the arts as a competition. Until 1948, the modern Olympics included artistic representations of the athletes in painting and sculpture, among other media, as the ancient Olympics had done. This exhibition features artworks from the Museum's Collection that follow this custom.
Artistic Tribute is on view in conjunction with the exhibitions Golden Hour: Olympians Photographed by Walter Iooss Jr. and Precious Medals: Gold, Silver, Bronze. These exhibitions are organized by the Asheville Art Museum and curated by Whitney Richardson, associate curator.
Selected works from the exhibition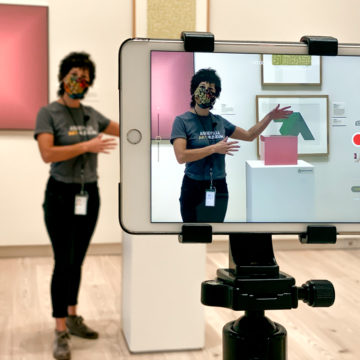 Book a Virtual Visit
Groups of students, adults, and family or friend groups with children are invited to schedule an interactive Virtual Visit to the Museum! Led by volunteer docents with Museum staff, our inquiry-based, conversational Virtual Visits introduce the Museum's galleries with a 3D tour and challenge visitors to hone their observation skills. Click to learn more about Virtual Visits for students, Virtual Visits for adults, or Virtual Visits for families.
Learn More