A Telling Instinct
John James Audubon & Contemporary Art
Location:
Asheville Art Museum (2 South Pack Square, Asheville 28801)
John James Audubon's lifelong obsession to record the natural world resulted in two inspired projects—Birds of America (1827–1838) and The Viviparous Quadrupeds of North America (1843–1848). These multi-volume publications wedded art and science but also incorporated a strong moral narrative that generated empathy and recognition in the viewer. A Telling Instinct juxtaposes Audubon prints with the work of artists who continue this tradition of animal allegories and metaphors within the context of the 21st century. Addressing the foibles and strengths that will always be part of the human condition can be made more palatable when told through the guise of the creatures that share our planet. In these portraits of beasts and beings, we often see reflections of our own instinctual selves.
A Telling Instinct: John James Audubon & Contemporary Art is curated by Associate Curator Cindy Buckner, with the assistance of Marilyn Laufer, director emerita of the Jule Collins Smith Museum of Fine Art. It includes prints by John James Audubon from the private collection of Bill & Peg Steiner, and recent works in diverse media by Bo Bartlett, Beth Cavener, Laurie Hogin, Adonna Khare, Anne Lemanski, Kate MacDowell, Mark Messersmith, Joel Sartore, and Tom Uttech.
The Museum would like to thank Bitsy & Jim Powell for their support of this exhibition.
Selected works from the exhibition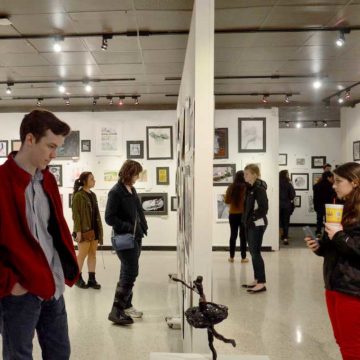 Group Tours
Groups of at least 10 students or adults are invited to schedule a tour of the Museum's Collection or special exhibitions. Our inquiry-based group visits, led by volunteer docents or Museum staff, challenge visitors to hone their observation skills.
Learn More