Connecting Legacies
A First Look at the Dreier Black Mountain College Archive
Dates:
January 27, 2021–May 17, 2021
Location:
The Van Winkle Law Firm Gallery
This exhibition features archival objects from the Theodore Dreier Sr. Document Collection presented alongside artworks from the Museum's Black Mountain College Collection to explore the connections between artworks and ephemera.
Click here to view the exhibition video to learn more.
This exhibition is organized by the Asheville Art Museum and curated by lydia see, fall 2020 Black Mountain College fellow, with support from a Digitizing Hidden Collections grant through the Council on Library and Information Resources.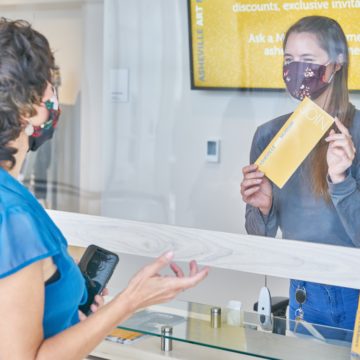 Join the Museum Family
Enrich your involvement with the Museum by joining our vibrant family of Members. Experience great art while mingling with fellow art lovers at an opening reception, watch a local ceramist throw a pot in her studio, discover new creative skills at a workshop—all this and more. As a Member, you will enjoy a wide range of benefits while providing vital support for the Museum's engaging education programs and innovative exhibitions. We invite you to join us! Join, renew, or give the gift of Museum membership today.
Join Now