Crafting Abstraction
Dates:
March 10 - May 13, 2018
Location:
Asheville Art Museum On the Slope (175 Biltmore Avenue)
Crafting Abstraction brings together a selection from the Museum's Permanent Collection that highlights the importance of craft to the development of modernist abstraction in the United States. Throughout the 20th and 21st centuries, modernist artists have used abstract forms—geometric and organic—to express immaterial phenomena such as spirituality, gracefulness, vitality, speed, sensuality and emotion. In many of these artworks, the physical attributes of the materials and the processes of hand-making are integral to the ideas and experiences conveyed.
Crafting Abstraction proposes an alternative to histories of art that credit the development of modernist abstraction to only painters and sculptors. The exhibition presents works in a wide variety of media including weaving, ceramics, woodworking, assemblage, quilting and stained glass, among others. Featured artists include: Anni Albers, Josef Albers, Ruth Asawa, Sidney Buchanan, Bessie Harvey, William Albert Lanier, Beatrice Riese and Jerilyn Virden.
This exhibition was curated by Holly Gore, PhD candidate in art history at the University of California, Santa Barbara + the Museum's Windgate Curatorial Intern 2017. This internship was supported by a Windgate Museum Internship Award administered by the Center for Craft.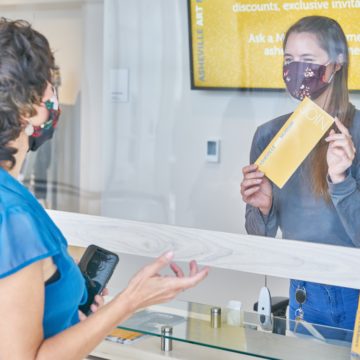 Join the Museum Family
Enrich your involvement with the Museum by joining our vibrant family of Members. Experience great art while mingling with fellow art lovers at an opening reception, watch a local ceramist throw a pot in her studio, discover new creative skills at a workshop—all this and more. As a Member, you will enjoy a wide range of benefits while providing vital support for the Museum's engaging education programs and innovative exhibitions. We invite you to join us! Join, renew, or give the gift of Museum membership today.
Join Now