Draped and Veiled
20×24 Polaroid Photographs by Joyce Tenneson
Dates:
May 25–October 10, 2022
Location:
The Van Winkle Law Firm Gallery
Standing behind the substantial presence of the large format Polaroid 20×24 camera—weighing 200 pounds and the size of a refrigerator—artists peer through the viewfinder towards another world. The process of creating the unique large dye transfer prints imparts framing to a scene and quality to an image that balances subtlety with boldness, softness paired with an undeniable presence. The 20×24 Polaroid adds an additional layer of veiling and diaphanous softness to the imagery in Joyce Tenneson's Transformations series, which she began in 1985 and engaged with through 2005.
Transformations features partially or fully nude figures poetically presented; Tenneson's photographs have always been interested in the magic of the human figure, contained within bodies of all ages and emotions in a broad range that are both vulnerable and bold. She interweaves elements that feel vaguely mythological or symbolic, her figures embodying Classical sculptures of gods and goddesses, both mighty and mercurial. Elements such as shells, fruits, or daggers are expressions of inner journeys and self-discovery, and draped fabric and netting echo the shifting flow of time, energy, and identity. The ethereal quality imparted by the Polaroid process resonated with Tenneson, who stated: "I often felt like a channel—the images that had been part of my inner psyche for years emerged from some mysterious source."
This exhibition is organized by the Asheville Art Museum and curated by Hilary Schroeder, assistant curator.
Selected works from the exhibition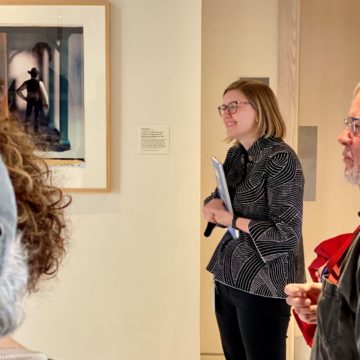 Group Tours
Groups of students or adults are invited to schedule a tour of the Museum's Collection or special exhibitions. Our inquiry-based group visits, led by volunteer docents or Museum staff, challenge visitors to hone their observation skills.
Learn More