Faces of Change
Dates:
March 18–May 23, 2022
Location:
Blossman Companies Education Gallery


Youth Artists Empowered (YAE) in collaboration with Tepeyac Consulting and the City of Asheville launched a public art initiative in fall 2021 to bring attention to the immediate effects of climate change on our community. By merging art, education, and activism, we worked to activate youth artist leaders from our community to help focus the local conversation on the realities of the climate emergency and strengthen the network of youth who will be tasked with responding to the changes in real time.
Youth captured images and narratives from Asheville residents and neighborhoods that are in danger of being directly impacted by flooding, drought, and climate change. Using climate data and maps of the city of Asheville and Buncombe county developed through research completed by Marisol Jimenez of Tepeyac Consulting, we created a plan for our youth street team and mentors to go into several neighborhoods identified as high-risk areas of negative climate impact. Using cellular technology and applications, youth collected images of residents, landscapes, and buildings from several of these neighborhoods. Our intention was to bring the faces of the people and neighborhoods that are being most negatively impacted into high-traffic areas of Asheville to spark meaningful conversations and increase public dialogue about climate change in our region.
This exhibition has been made possible by the generous support of the City of Asheville, Tepeyac Consulting, the Asheville Art Museum, Singh Studios, and Blackbird Frame and Art.
Selected works from the exhibition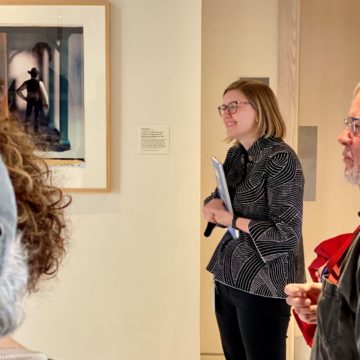 Group Tours
Groups of students or adults are invited to schedule a tour of the Museum's Collection or special exhibitions. Our inquiry-based group visits, led by volunteer docents or Museum staff, challenge visitors to hone their observation skills.
Learn More