Gestures
Mid-Century Abstraction from the Collection
Dates:
October 22, 2021–January 24, 2022
Location:
Explore Asheville Exhibition Hall
"There are no rules, that is one thing I say about every medium, every picture . . . that is how art is born, that is how breakthroughs happen. Go against the rules or ignore the rules, that is what invention is about." —Helen Frankenthaler, 1994
The 1940s through 1970s marked a period during which many artists in the United States emulated the above words of Helen Frankenthaler, one of the most innovative and influential artists of her time. Gestures, drawn from the Museum's Collection with select loans from regional collectors and institutions, highlights works in a variety of media that speak to the vibrant abstract experiments in American visual culture that emerged after World War II. The artworks shown here explore some of the many approaches to abstraction. Aesthetic ideas emanating from institutions such as Black Mountain College in Black Mountain, NC, and Hans Hofmann's School of Fine Arts in New York City are visible in the works of those who studied there. Relationships that spanned from local to global also contributed to the progression of and dialogues around abstraction. Though many associate the well-known Abstract Expressionism movement with New York City, these works demonstrate the variety of national and international currents in non-representational art that were investigated across the country, including here in Western North Carolina. The artists painting, sculpting, and printing at midcentury set the stage for continued risk and discovery that carries into American art today.
This exhibition is organized by the Asheville Art Museum and curated by Hilary Schroeder, assistant curator, with assistance from Pamela L. Myers, executive director, and Corey Loftus, fall 2021 curatorial fellow.
Selected works from the exhibition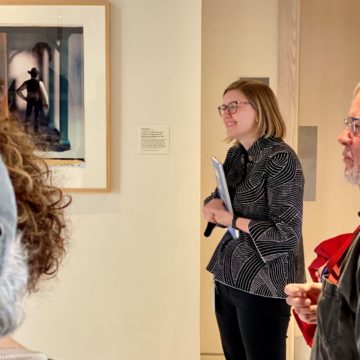 Group Tours
Groups of students or adults are invited to schedule a tour of the Museum's Collection or special exhibitions. Our inquiry-based group visits, led by volunteer docents or Museum staff, challenge visitors to hone their observation skills.
Learn More