Many Become One
Location:
Museum Plaza, Windgate Foundation Atrium
Art and artists often encourage us to consider our place in the world. Much like the traditional United States motto E Pluribus Unum, meaning "out of many, one," the artists who created the works seen in the Atrium and Museum Plaza brought many separate parts together to make a unified whole. These works offer us a variety of possibilities for how to navigate our physical world on regional, national, and global levels.
Selected works from the exhibition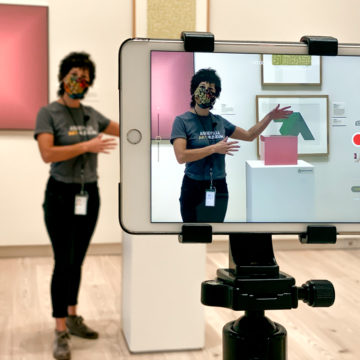 Book a Virtual Visit
Groups of students, adults, and family or friend groups with children are invited to schedule an interactive Virtual Visit to the Museum! Led by volunteer docents with Museum staff, our inquiry-based, conversational Virtual Visits introduce the Museum's galleries with a 3D tour and challenge visitors to hone their observation skills. Click to learn more about Virtual Visits for students, Virtual Visits for adults, or Virtual Visits for families.
Learn More