Reverberations
Exploring Movement in the Collection
Dates:
March 6, 2020–January 4, 2021
Location:
Appleby Foundation Exhibition Hall
Movement in static mediums such as painting, drawing, and photography is difficult to express, yet many artists feel called to explore it. Movement serves as an impetus for creation—to either capture it or create it in entirely different mediums. The works here, selected from the Asheville Art Museum's Collection, highlight additional approaches to rendering a lasting imprint of the ephemeral. Artists such as Walter Iooss and Blythe Bohnen are concerned with the motion of the human form, evoking a sense of elongated or contracted muscles, of limbs moving through space. Others, like Robyn Horn and Bernar Venet, approach the challenge through abstraction, foregoing representation yet communicating an atmosphere of dynamic change. Marianne Preger-Simon's drawings of her fellow dancers at Black Mountain College in the summer of 1953 are not only portraits but also a dance of pencil on paper, created in the spirit of artist Josef Albers's line studies as she simultaneously worked with choreographer Merce Cunningham. Each of these artists ultimately reflects on the time-based ephemeral nature of movement.
Selected works from the exhibition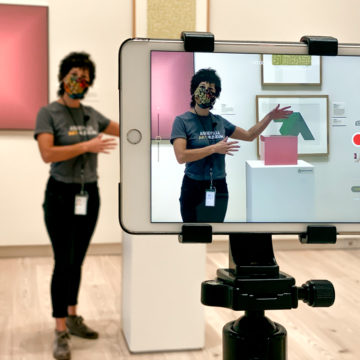 Book a Virtual Visit
Groups of students, adults, and family or friend groups with children are invited to schedule an interactive Virtual Visit to the Museum! Led by volunteer docents with Museum staff, our inquiry-based, conversational Virtual Visits introduce the Museum's galleries with a 3D tour and challenge visitors to hone their observation skills. Click to learn more about Virtual Visits for students, Virtual Visits for adults, or Virtual Visits for families.
Learn More