Rural Avant-Garde
The Mountain Lake Experience
Dates:
August 20, 2021–November 1, 2021
Location:
Appleby Foundation Exhibition Hall
Contemporary art, interdisciplinary research communities, and the inspiration of Appalachia converge in Rural Avant-Garde: The Mountain Lake Experience. This exhibition showcases a selection of collaborative creative works that emerged from nearly four decades of the Mountain Lake Workshop series, a program sited in rural southwestern Virginia.
Founded by artist and scholar Ray Kass in 1980 and co-organized with influential art critics Dr. Donald B. Kuspit and Dr. Howard Risatti, as well as the Virginia Museum of Fine Arts (VMFA), the Mountain Lake Workshops integrated the arts and sciences in a dynamic experimental creative process that pushed past the traditional boundaries of art, dance, and performance.
Community-centered from its inception, the Mountain Lake Workshop demonstrated the relevance of the arts across disciplines, as well as social and participatory learning. This exhibition offers a focused look at art that investigated new conceptual limits, born of the region in southwestern Virginia, just a few hundred miles north of Asheville, NC. Works range from large-scale watercolors and photographic installation to relics of performances and other experimentations in artmaking.
Highlights include composer and conceptual artist John Cage's New River Rocks and Washes (1990). A significant late-career work by Cage, this rarely exhibited watercolor extends nearly 30 feet in length, produced using methods of chance to trace stones gathered from the workshop's natural surroundings.
This exhibition was organized by the Longwood Center for the Visual Arts at Longwood University. Generous funding was provided in part by the National Endowment for the Arts.
Selected works from the exhibition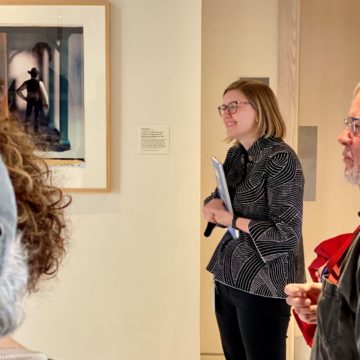 Group Tours
Groups of students or adults are invited to schedule a tour of the Museum's Collection or special exhibitions. Our inquiry-based group visits, led by volunteer docents or Museum staff, challenge visitors to hone their observation skills.
Learn More