Selections from the Collection
Dates:
OPENING EXHIBITION: Summer 2019
Location:
Asheville Art Museum (2 South Pack Square, Asheville 28801)
One of two inaugural exhibitions under development is the major reinstallation and reinterpretation of the Museum's Collection in a much-enlarged gallery space. A national team of scholars and experts in the field are working with the Museum to develop this new interpretation and exhibition installation. The thematic and contextual focuses of the Collection installation will be informed by artistic principals exemplified by Black Mountain College. Because of its unique relevance to Western North Carolina, its important influence on the national and international art community, as well as its interest to long time and new residents of WNC and cultural visitors from around the world, the principles of the College present an opportunity to develop a unique and placed-based installation.
The Collection installation and the first catalogue of the Museum's Collection will consider multiple and sometimes intersecting narratives in American art. Both the installation and the catalogue will focus on key aspects and strengths of the Museum's holdings and will provide a narrative framework within which visitors can interact with and experience works of art. The project will be organized to convey the multifaceted historical and contemporary stories of art and culture in WNC and Southern Appalachia set within the broader context of American aesthetic development. The project will tell the story of our area, and explore our sense of place and its relationship to and national impact on the art world.
Themes such as Time & Place, Experiments in Material & Form, and Collaboration & Interdisciplinary Dialogue will frame the interpretation of the Collection. These ideas are the cultural heritage, present, and future of the region and will be explored within each gallery. Presenting regional contributions within the context of American art on the national scale, these themes will help our visitors organize and personalize their Museum experience.
This exhibition is organized and curated by the Asheville Art Museum.
Selected works from the exhibition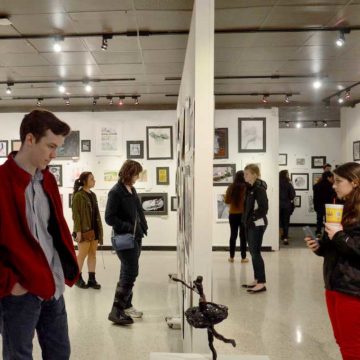 Group Tours
Groups of at least 10 students or adults are invited to schedule a tour of the Museum's Collection or special exhibitions. Our inquiry-based group visits, led by volunteer docents or Museum staff, challenge visitors to hone their observation skills.
Learn More