Stained with Glass
Vitreograph Prints from the Studio of Harvey K. Littleton
Dates:
January 12–May 23, 2022
Location:
The Van Winkle Law Firm Gallery
In 1974 Harvey K. Littleton developed a process for using glass to create prints on paper. Littleton, who began as a ceramicist and became a leading figure in the American Studio Glass Movement, expanded his curiosity around the experimental potential of glass into innovations in the world of printmaking. A wide circle of artists in a variety of media—including glass, ceramics, and painting—were invited to Littleton's studio in Spruce Pine, NC to create prints using the vitreograph process developed by Littleton.
The selection of works presented in Stained with Glass echoes the range of makers who worked with Littleton, including Dale Chihuly, Cynthia Bringle, Thermon Statom, and Littleton himself, and features imagery that recreates the sensation and colors of stained glass. Upending notions of both traditional glassmaking and printmaking, vitreographs innovatively combine the two into something new. The resulting prints created through a process of etched glass, ink, and paper create rich, colorful scenes reminiscent of luminous stained glass.
This exhibition is organized by the Asheville Art Museum and curated by Hilary Schroeder, assistant curator.
Selected works from the exhibition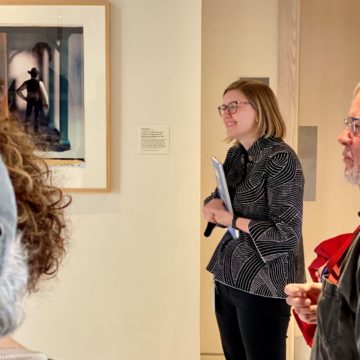 Group Tours
Groups of students or adults are invited to schedule a tour of the Museum's Collection or special exhibitions. Our inquiry-based group visits, led by volunteer docents or Museum staff, challenge visitors to hone their observation skills.
Learn More