Useful and Beautiful
Silvercraft by William Waldo Dodge
Dates:
February 23–October 17, 2022
Location:
Debra McClinton Gallery
William Waldo Dodge moved to Asheville in 1924 as a trained architect and a newly skilled silversmith. When he opened for business promoting his handwrought silver tableware, including plates, candlesticks, flatware (spoons, forks, and knives), and serving dishes, he did so in a true Arts and Crafts tradition. The aesthetics of the style were dictated by its philosophy: an artist's handmade creation should reflect their hard work and skill, and the resulting artwork should highlight the material from which it was made. Dodge's silver often displayed his hammer marks and inventive techniques, revealing the beauty of these useful household goods. The silver works in this exhibition are drawn from the Museum's Collection.
The Arts and Crafts style of England became popular in the United States in the early 1900s. Asheville was an early adopter of the movement because of the popularity and abundance of Arts and Crafts architecture in neighborhoods like Biltmore Forest, Biltmore Village, and the area around The Grove Park Inn. The title of this exhibition was taken from the famous quotation by one of the founding members of the English Arts and Crafts Movement, William Morris, who said, "have nothing in your house that you do not know to be useful or believe to be beautiful." Not only did Dodge follow this suggestion; he contributed to American Arts and Crafts silver's relevancy persisting almost halfway into the 20th century.
This exhibition is organized by the Asheville Art Museum and curated by Whitney Richardson, associate curator.
Selected works from the exhibition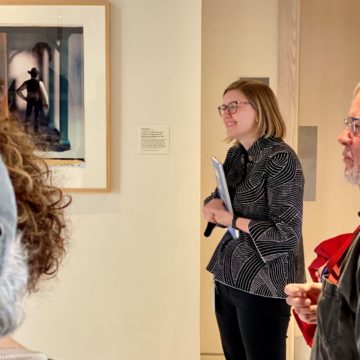 Group Tours
Groups of students or adults are invited to schedule a tour of the Museum's Collection or special exhibitions. Our inquiry-based group visits, led by volunteer docents or Museum staff, challenge visitors to hone their observation skills.
Learn More