Western North Carolina Glass from the Asheville Art Museum
Dates:
April 19, 2017-April 3, 2018
Location:
State Employees' Credit Union
Pop-up Exhibition
On view at local State Employee Credit Union branches
Western North Carolina holds a special place in the history of American glass art, as several artists of the Studio Glass Movement settled in the region early in their careers. In 1965, Harvey K. Littleton (1922–2013), the "father" of the Studio Glass Movement (an ongoing movement that began in the 1960s), was invited to the Penland School of Crafts in Bakersville, NC. Unable to visit, his graduate student Bill Boysen went in his place, and shortly afterwards created a glass facility there. This event instigated the Studio Glass Movement in Western North Carolina as more of Littleton's students began teaching at Penland and glass artists took up residence in the region. Penland would become one of the most significant information exchange centers for glass, attracting instructors from all over the U.S., as well as internationally. The prominent glass artists of the Studio Glass Movement, many still active today, are well represented by the Asheville Art Museum's collection — works from artists including Mark Peiser, William Bernstein, Rob Levin, Yaffa and Jeff Todd, and Ken Carder reflect a variety of techniques practiced in this demanding medium.
The glassworks seen in this exhibition highlight the creativity and diversity of expression available through this challenging medium, and are but a glance into the Asheville Art Museum's extensive collection of studio glassworks from regional artists.
We are grateful to the State Employees' Credit Union and its members for their generous support of the Asheville Art Museum.
Selected works from the exhibition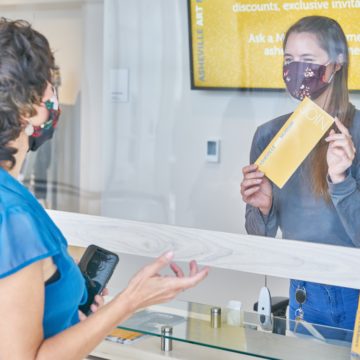 Join the Museum Family
Enrich your involvement with the Museum by joining our vibrant family of Members. Experience great art while mingling with fellow art lovers at an opening reception, watch a local ceramist throw a pot in her studio, discover new creative skills at a workshop—all this and more. As a Member, you will enjoy a wide range of benefits while providing vital support for the Museum's engaging education programs and innovative exhibitions. We invite you to join us! Join, renew, or give the gift of Museum membership today.
Join Now