Western North Carolina Pottery from the Asheville Art Museum
Dates:
April 19, 2017-April 3, 2018
Location:
State Employees' Credit Union
POP-UP EXHIBITION
On view at local State Employees' Credit Union branches
As an industry, pottery has thrived in Western North Carolina for over a century. Whereas it first filled functional needs and was produced for storage, pottery emerged as an art form in the region around the rise of the Arts and Crafts Movement at the turn of the 20th century. As more homes adopted glass and plastic containers instead of ceramic vessels, potters turned their attention to the production of more artistic wares.
This pop-up exhibition includes ceramics by Oscar L. Bachelder, Thomas Throckmorton, Walter B. Stephen, Bacia Edelman, Julie Larson, Michael Sherrill, and others. Whether working alone or with collaborators, these artists exemplify the diversity of approaches to Art Pottery in Western North Carolina that continues today.
Their works are just a small selection from the ceramics collection of the Asheville Art Museum, which consists of over 500 ceramic objects of both utilitarian and sculptural forms.
We are grateful to the State Employees' Credit Union and its members for their generous support of the Asheville Art Museum.
Selected works from the exhibition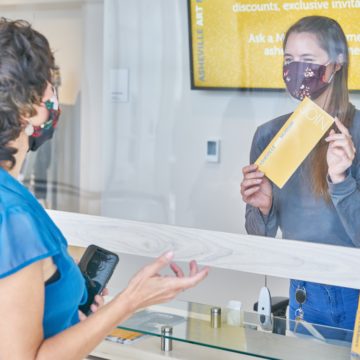 Join the Museum Family
Enrich your involvement with the Museum by joining our vibrant family of Members. Experience great art while mingling with fellow art lovers at an opening reception, watch a local ceramist throw a pot in her studio, discover new creative skills at a workshop—all this and more. As a Member, you will enjoy a wide range of benefits while providing vital support for the Museum's engaging education programs and innovative exhibitions. We invite you to join us! Join, renew, or give the gift of Museum membership today.
Join Now