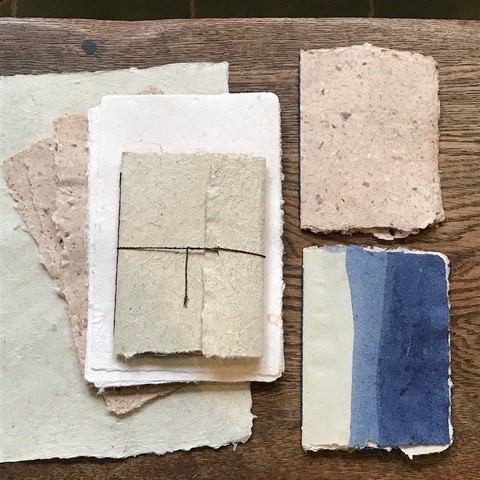 Two-Day Adult Studio: Paper Making and Book Binding with Alyssa Sacora
TWO-DAY CLASS—Saturday, August 5 & Sunday, August 6
Are you curious about how paper is made? Wondering what you would do with a stack of handmade paper after you create them? Join us during this two day workshop and learn how to make paper and make your own book. The workshop includes a tour of the exhibition Pulp Potential to discuss creative concepts and be inspired by the works on view.
Participants will take home handmade paper and books, a reference hand-out, and the skills to continue on with the craft.
---
About the Instructor
Alyssa Sacora (she/her) is a crafts person exploring paper making, book arts, basketry, and natural dyes with locally available plants. She encourages reciprocal relationships between people and plants through teaching hands-on workshops at her studio, The Patchwork Underground, in Fairview, North Carolina and other area venues. Guided by tradition and curiosity, Alyssa is finding ways to create a sustainable art practice that takes care of the soil, minimizes resource use, and inspires others to do the same in their own way. To learn more about Alyssa and see her work and offerings, visit www.thepatchworkundeground.com
---
Please note:
This is a two day class occurring Saturday, August 5 and Sunday, August 6.
This Adult Studio class is held indoors in the Museum's John & Robyn Horn Education Center.
Two seats for this class will be offered as equity seats at a discounted cost of $25 for BIPOC students. Please contact for more information.
Adult Studio
The Museum's studio program for adults offers a core curriculum in drawing, painting, printmaking, and three-dimensional media, and also explores the intersections between them. Local and visiting artists help students of all levels and abilities develop skills in media that reflect techniques and themes featured in the Museum's Collection and special exhibitions. Classes meet for 3–12 weeks, and are designed for anyone interested in exploring specific media in depth; daylong workshops introduce new media or processes. To add your name to our Adult Studio mailing list, click here or call 828.253.3227 x133.
Contact:

Phone:

828.253.3227