The Museum is a collecting institution and the only organization of its kind serving all 24 counties of Western North Carolina. Through its Collection, the Museum provides an overview of significant movements and trends in American art of the 20th and 21st centuries and art of significance to the Southeast.
BROWSE ONLINE COLLECTION DATABASE
A selection of the Asheville Art Museum Collection holdings is available for viewing in our Online Collection Database. The database is a constantly expanding resource with new and updated records added regularly.
About the Collection
The Museum actively collects American art of the 20th and 21st centuries. Within the larger context of American art is a concentration on work with significance to the Southeast and in particular, regional contributions in three central categories:
Artists related to Western North Carolina (WNC) and Southern Appalachia
Artists who studied or taught at Black Mountain College (1933-1957)
Fine handmade objects created in the region— including Eastern Band of Cherokee Indians artists, historic regional craftspeople, and contemporary studio craft as exemplified by the Penland School of Craft
Works by artists of the region make up approximately one-half of the Museum's Collection. This includes work by Joshua Adams, Rob Amberg, Cynthia Bringle, Virgil Crowe, Margaret Curtis, Douglas D. Ellington, Maud Gatewood, Hoss Haley, Eric Knoche, Anne Lemanski, Sallie Ellington Middleton, Kenneth Noland, Mark Peiser, Will Henry Stevens, Lucille Stonier, and Bob Trotman. Self-taught artists of the region include Raymond Coins, C.J. Dobbins, Kate Clayton "Granny" Donaldson, and James Harold Jennings.
One of the major focuses of the Collection is works of significance by artists associated with Black Mountain College (BMC), which was located 15 miles east of Asheville. From 1933 to 1957, BMC was a unique experiment in American education and a center for experimentation in all areas of the arts. Because of the College's regional and international significance, and the impact that its revolutionary educational style had on modern art, the Museum is committed to preserving the legacy of BMC, with 1,500+ objects and documents by faculty and alumni such as Anni & Josef Albers, Ruth Asawa, John Cage, and Robert Rauschenberg. Within the BMC Collection, the Museum is also the repository of the Lorna Blaine Halper Estate. View the Black Mountain College Collection.
The Museum has been particularly active in collecting historic and contemporary craft and studio glass with a focus on the Southeast and WNC, covering all media and dating from the early part of the 20th century through the present. Significant holdings by early 20th-century artists include William Waldo Dodge, Jr. and Walter B. Stephen. Important contemporary craft and studio craft collections include works by Cynthia Bringle, Shane Fero, Richard Jolley, Jon Kuhn, Robert Levin, Lore Lindenfeld, Harvey Littleton, Ben Owen III, Mark Peiser, Richard Ritter, Norm Schulman, Billie Ruth Sudduth, and Jeff & Yaffa Todd.
A small but growing part of the Museum's Collection is 65+ objects by Cherokee artists and artisans from the 19th century to the present, particularly by members of the Eastern Band of Cherokee, a tribe based on the Qualla Boundary in nearby Cherokee, NC, and the Cherokee Nation. Traditional media including wood carving, stone carving, ceramics, and basketry are represented.
The Museum's Collection, by the Numbers
7,500+ total works
750+ paintings. Artists include: George Bireline, Roger Brown, S. Tucker Cooke, Pierre Daura, Joseph Fiore, Ida Kohlmeyer, McKendree Robbins Long, Beverly McIver, Jo Sandman, Roger Shimomura, Tula Telfair, and Eugene Thomason.
750+ drawings. Artists include: George Charles Aid, Beverly Buchanan, Minnie Evans, Gustave Falk, Lorrie Goulet, Ray Johnson, Anthony Lord, Elaine Schmitt Urbain, and George Widener.
1,450+ prints in a variety of techniques such as etching, lithography, screenprint, monotype, and woodcut. Artists include: Anni Albers, Josef Albers, Thomas Hart Benton, Judy Chicago, Helen Gerardia, Jerome Kaplan, Robert Rauschenberg, Joe Chris Robertson, Donald Sultan, and Ernest Trova.
2,250+ photographs by artists such as Hazel Larsen Archer, Bruce Davidson, Jade Doskow, Sally Gall, Walter Iooss, Robert Glenn Ketchum, David Levinthal, Joel Meyerowitz, Barbara Morgan, Benjamin Porter, Mike Smith, Joyce Tenneson, Kent Washburn, Carrie Mae Weems, and Jonathan Williams.
175+ sculptures and installations with crossovers into Cherokee art, craft, and Self-taught art. Artists include: Minnie Adkins, Ruth Asawa, Cristina Córdova, David Ellsworth, Dorothy Gillespie, Lonnie Holley, Robyn Horn, Stoney Lamar, Joe Minter, Randy Shull, and Kenneth Snelson.
1,000+ studio and contemporary craft objects including glass, ceramic, fiber, metal, wood, and mixed media. Artists include: Rowena Bradley, Ken Carder, Dale Chihuly, William Waldo Dodge, Jr., Mary Gregory, Karen Karnes, Harvey K. Littleton, Joel Queen, Norm Schulman, Walter B. Stephen, and Billie Ruth Sudduth.
In addition, the Museum holds 4,700+ architectural drawings that document the built environment of Asheville and its surroundings by Richard Sharp Smith (and Albert Heath Carrier) and Douglas D. Ellington.
Collection Database Disclaimer: The presentation of the Collection in a living online database is an ongoing project with new information and artwork added regularly. It currently contains a portion of the Collection as the Museum works towards bringing all objects online over time. If you have information to contribute about an artist or artwork in the Asheville Art Museum's Collection, please contact the Curatorial Department. To learn more about copyright and using images made available on the Collection database, click here.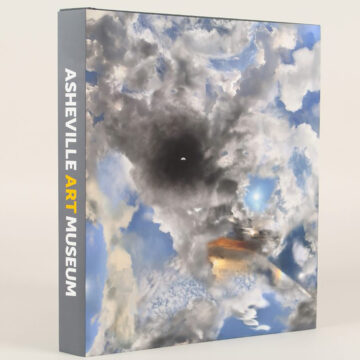 Bring our Collection home by purchasing the Asheville Art Museum: An Introduction to the Collection!
This stunning first major catalogue published by the Asheville Art Museum highlights and introduces the Museum's Collection of American art from 1860 to the present. As an introduction, it acknowledges both the depth of the Collection as it currently stands and its continued growth. The breadth and depth of the Collection includes regionally and nationally significant paintings and drawings, prints, photography, sculpture, craft and decorative arts, and focal collections of works by members of the Eastern Band of Cherokee Indians, Appalachian historical and contemporary work, the work of Black Mountain College artists, traditional and studio craft in all media, and regional architecture. Explore 296 pages featuring more than 220 images paired with scholarly interpretation and generously illustrated essays that provide context and food for further thought and understanding.
Major support for this project is most generously provided by the Henry Luce Foundation. This project is also funded in part by an award from the National Endowment for the Arts