Art inspires, enriches, and enlivens us; it gives hope for the future and reminds us of our shared humanity. We are grateful to the individuals, corporations, and foundations that support the Museum with generous donations and memberships throughout the year.
Endowment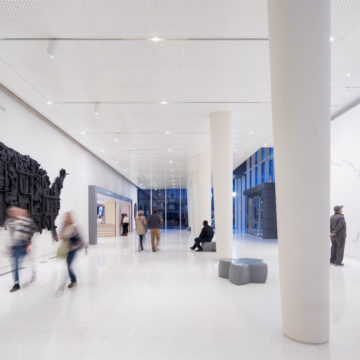 A gift to the endowment is a lasting investment in the Museum's vision to transform lives through art. Building sustaining funds for the Collection, exhibitions, and programming helps to ensure the Museum's continued impact in our community, now and in the future.
Annual Fund/General Donations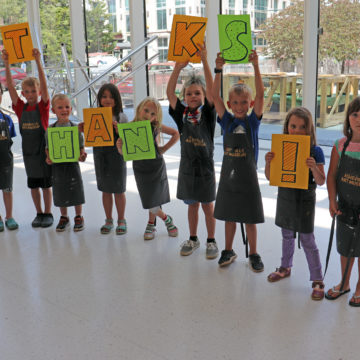 Our Annual Fund campaign is divided into Fall and Spring Appeals, which raise funds to cover our daily operations and programs. We believe the arts make a difference in our community. A gift to the Annual Fund allows us to continue to provide meaningful art, education, and experiences to the people of Western North Carolina and the many visitors to our region.
Memorials & Honoraria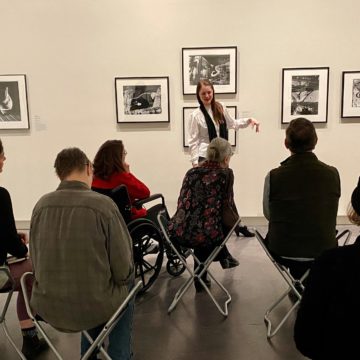 Honoring a friend or loved one with a donation serves as a tribute to their memory or to recognize a special occasion, helping to celebrate them through art. Any donation to the Museum can be made in memory or in honor of someone special. An acknowledgment of your gift will go to your loved one or their family.
Planned Giving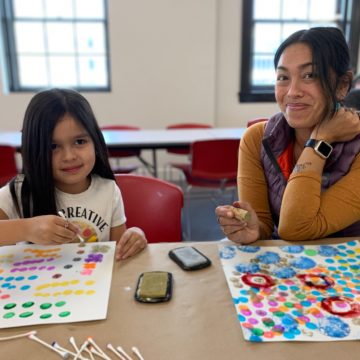 Planned gifts can include bequests, charitable trusts, gifts of retirement-plan assets, gifts of life-insurance policies, and gifts of real estate or tangible property. We would be delighted to work with you and your advisors to structure a gift that best fulfills your philanthropic goals. Contact Chelsea Rudisill, grants manager, for more information.
More Ways to Give
In-Kind Gifts
Supporting the Museum through the donation of goods or services is a wonderful way to contribute to the success of all aspects of the Museum. Contact Kristen Boddy, membership & Museum events manager, if you are interested in donating in kind.
Gifts of Art
The Museum welcomes gifts of art that may be donated during your lifetime or by bequest. Contact Whitney Richardson, assistant curator, if you are considering donating a work of art to the Museum.
Become a Member
As a Member of the Museum family, you get a variety of exciting benefits and the pride of knowing you support a vibrant arts community. All membership levels include unlimited annual access to our galleries, rooftop Café, and sculpture terrace. For more details on Member levels and benefits, visit our membership page.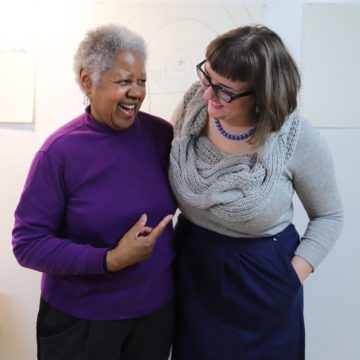 2019 DONORS
The generosity of individuals, corporations, and foundations, as well as local, state, and federal government support, enables the Museum to serve WNC residents and our many visitors with innovative educational programs for young people, an active schedule of adult educational programming, and spectacular exhibitions to engage all age groups and diverse communities. Thank you to all of the Museum's donors who supported the Museum's exhibitions, Collection, education programming, and operations.
Our Annual Donor Wall reflects all financial and in-kind gifts received in support of Museum exhibitions, collections, education programming, and operations.
$100,000+
Appleby Foundation
Council on Library and Information Resources
Institute of Museum and Library Services in partnership with the National Park Service, the National
Endowment of the Humanities, and the National Endowment for the Arts
William R. Kenan, Jr. Charitable Trust
William Randolph Hearst Foundation
Windgate Foundation

$50,000+
Art Bridges Foundation
Buncombe County
Robert and Mercedes Eichholz Foundation

$25,000+
Citizen-Times Asheville
Henry Luce Foundation
Midgard Foundation/Phillip C. Broughton, Phillip C. Broughton Jr., David L. Smith and Margaret B. Crockett
National Endowment for the Arts
North Carolina Arts Council
The Van Winkle Law Firm

$10,000+
Beverly-Grant, Inc.
The Blumenthal Foundation
The Chaddick Foundation
Darren & Marissa Green
Jill & Joe Lawrence
Carole & Rick Marcotte
MB Haynes Corporation
Frances Myers
Parsec Financial
Julia & Jim Peterson
PNC Foundation
Bitsy & Jim Powell
Wells Fargo
Wild Wing Café

$5,000+
Anonymous (3)
828:design
Aloft Asheville/AC Hotel/Kimpton Hotel Arras
Bank of America
The Beattie Foundation
Danielle R. Bernstein
BlackBird Frame & Art
Brunk Auctions
Burial Beer
Anne & Nat Burkhardt
Center for Craft
Dorothy Hamill Charitable Fund
Frist Art Museum
Grand Bohemian Hotel: Red Stag Grill & Grand Bohemian Gallery
Susan Holden
James A. and Mayme H. Rowland Foundation
Vito Lenoci
McGuire, Wood & Bissette, P.A.
Elwood & Meg Miles
Butch & Kathy Patrick
Chuck & Jenny Riner
Room to Dance
Rouleau Real Estate Group
Samsel Architects, PA
Babbie & Waid Shelton
Harvey & Vikki Wiener
Glenn W. Wilcox, Sr.

$2,500+
Anonymous
American Institute of Architects Asheville Area
Bob & Ellen Carr
Carolyn & Orville Coward
Nancy Holmes
Suzanne Jones
Brian & Gail McCarthy
Ladene & Russell Newton
Lynne Poirier-Wilson & Jim Wilson
Susan Rhew
Cherry & Paul Lentz Saenger
Omari Simmons
Libby Skamfer
TD Charitable Foundation
Walnut Cove Members Association
Constance & Miller Williams
Olivia & Gary Zahler

$1000+
Joel & Marla Adams
Zenda Addis & Terry Powell
Lin Andrews
ARCA Design, PLLC
Lauri & Jon Arnold
Asheville Bulldog Realty
Bobby Barnett
Audie & Bob Bayer
Robert K. Benites
Courtney Blossman
Carol & Morty Blumberg
J. Alexander Bond
Ed Bresler
Esther Burstein
Tom Butler & Marilyn Laufer
Christi & Nicholas Butts
Buxton Hall Barbecue
City of Asheville
Community Foundation of Henderson County, Perry N. Rudnick Endowment Fund
Contemporaneo Asheville
Nancy Crosby
George & Kathy Dambach
Jim & Terry Davis
Bridget & Rick Eckerd
Nancy B. Ferguson
Foothills Meats
French Broad Chocolate Lounge
Joey Gigliotti
Garrett & Stephanie Greiner
Ray Griffin & Thom Robinson
Judy Hamill
Rick Heath & Merrily Orsini
Michael Hofman
Ellen James
Judy Appleton Memorial Fund
Barbara & Michael Keleher Family
Ann & Jon Kemske
Dennis King & Jan Clarson King
Amy L. Loether
Ray & Sue McClinton
Kim McGuire & Jim Samsel
Karen & Robert Milnes
David Moltke-Hansen & Patricia Poteat
Win & Tamara Moses
Kenneth Myers
Pamela L. Myers
Richard Nantelle
The Old Wood Co.
Mary Powell
Rob Pulleyn
Cason Rankin
Bob & Kathy Rauch
Martha Schenck
Charlie & Susan Shanor
Marsha & Michael Shlaer
Randy Siegel & Don Baker
William Snelling & Wesley Cadle
Howard & Juanita Spanogle
Strada
Hank & Marita Strauss
Pat & Ray Strong
Michael J. Teaford
Larry Turner
Susan Turner
Judy Upjohn
Sarah Van Gunten
Barbara & Mike Walker
Benjamin Walls
Fred & Marianne Weaver
Zealandia Holding Company