The Museum's rooftop café serves up locally sourced food, plus coffee, tea, wine, beer, and cocktails with expansive views of the mountains and sculpture terrace. Café access is free for Members or included with Museum admission. For more information, email the café or call 828.253.3227 x136.
The Museum is temporarily closed due to coronavirus. In the meantime, click here to browse Perspective Café favorites, family-style specials, and to order for pickup. (Museum Members: Enter coupon code AAMMember at checkout to receive your 10% Member discount!)
SMALL PLATES & SNACKS
SPICY PIMENTO CHEESE & PRETZEL CHIPS (V) 8
SMOKED TROUT DIP 8
featuring Sunburst Farms trout
SIGNATURE TOMATO PIE (V) 8
QUICHE LORRAINE 5
MUSHROOM QUICHE (V) 5
ARGENTINEAN BEEF EMPANADAS 10
with sofrito aioli
LEMONGRASS CHICKEN MEATBALLS (GF) 8
GRILLED PORTOBELLO MUSHROOMS (VG, GF) 10
with avocado chimichurri
SANDWICHES & PANINIS
ITALIAN PANINI 14
with HNG cured smoked ham, salami, pepperoni, mozzarella, roasted pepper, extra virgin olive oil, red wine vinegar
on a City Bakery ciabatta roll
SIGNATURE ROAST BEEF SANDWICH 14
slow roasted Angus roast beef, Swiss cheese, and caramelized onion
on a City Bakery croissant with horseradish cream
FIG JAM, BRIE & PROSCIUTTO PANINI 12
with arugula and balsamic reduction
on City Bakery sourdough
TEMPEH & AVOCADO CHIMICHURRI GRILLED CHEESE PANINI (V) 12
with red onion and sofrito aioli
on City Bakery sourdough
GRILLED PIMENTO CHEESE PANINI 12
with house-made spicy pimento cheese
on City Bakery sourdough
add bacon or avocado chimichurri 2
GRILLED CHEESE PANINI 10
with cheddar and Swiss
on City Bakery sourdough
add bacon or avocado chimichurri 2
SOUP OF THE DAY (BY THE CUP OR THE BOWL)
ASK ABOUT TODAY'S SELECTIONS
SALADS
CAESAR SALAD 10
with cornbread croutons and shaved Parmesan
add blackened chicken breast 4
ROASTED BEET SALAD 10
beets marinated in citrus, dill, and grapeseed oil
on a bed of arugula
CLASSIC COBB SALAD 14
"MIXED MEDIA"
QUICHE & CUP OF SOUP 10/12
QUICHE & SMALL SALAD 12
CUP OF SOUP & SMALL SALAD 12/14
CUP OF SOUP & HALF SANDWICH 12/14
fig jam, tempeh, pimento cheese, or grilled cheese
COOKIES 3
DESSERT BARS 5
SCONES 4
HOUSE-MADE POT DE CRÈME (VG/GF) 6
COFFEE & TEA
PERSPECTIVE BLEND COFFEE
regular or decaf
drip cup 2.5
pour-over cup 3.5
pour-over pot 6
HOT TEA BY ASHEVILLE TEA COMPANY
cup 3.5
pot 6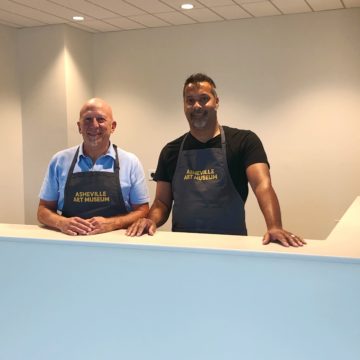 Food Experience
Tony Franco and Matthew Macon launched Food Experience in 2007 to bring their boutique style of full-service catering to Asheville. Now, they have partnered with the Museum to run Perspective Café, bringing their Italian and Indian heritages (respectively) along with inspiration from the Museum's Collection, programming, and exhibitions to a fresh, rotating menu. Learn more about Food Experience here.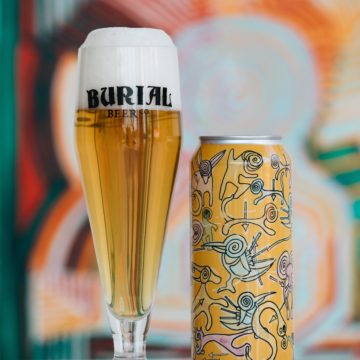 Burial Beer
Grabbing a drink? Try the Spiral Pilsner, created by Burial Beer especially for the Asheville Art Museum in celebration of our grand re-opening!
Tasting notes from the taproom:
An homage to the great musings of the wondrous minds that once filled the AVL canvas. Made with the Asheville Art Museum to celebrate its new chapter. Mashed with pilsner malt and hopped deftly with noble varietals. Carbonated with intention.