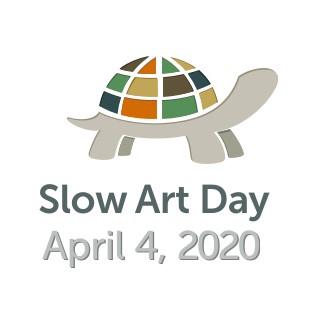 *FULL* Slow Art Day – VIRTUAL
This program will take place virtually via Zoom. A video of the event is now available on the Museum's YouTube page.
Slow Art Day is a global event with a simple mission: help more people discover for themselves the joy of looking at and loving art. When people look slowly at an artwork, they make discoveries. One day each year, people all over the world visit local museums and galleries to look at art slowly. Participants look at one or a few artworks and talk about their experience. That's it. Simple by design, the goal is to focus on the art and the art of seeing. Read more about Slow Art Day at slowartday.com.
For this year's event, join Doris Potash, master docent, for an in-depth conversation about three artworks in our Collection made by women, in honor of the 100th anniversary of the passage of the 19th Amendment. Before the discussion, find a quiet space. Close your eyes, take a deep breath, and let it out slowly. Now open your eyes, and engage with these artworks; click on the thumbnail for a larger image, and spend about 15 minutes looking slowly at each.
What's going on in each artwork? What details do you notice?
If you were in those places, what sounds would you hear? What textures and temperatures would you feel?
What memories and emotions do these artworks evoke?
Each of these artworks was created by a woman. Is there anything about the works that you would associate with a uniquely female perspective?
Minnie Evans, Untitled, not dated, colored pencil on brown paper, 11 ¾ × 9 inches. Gift of Randy Siegel, 2012.08.42.
Harriet Randall Lumis, The Little Red Bush, circa 1915, oil on canvas, 24 × 28 inches. Given in honor of Dorothy Hamill on her birthday, October 12, 2000, 2000.14.21.
Carrie Mae Weems, Untitled (Playing Cards/Malcolm X) from the Kitchen Table II series, 1990, printed 1999, gelatin silver print, edition 2/5, 26 ¾ × 26 ⅞ inches. Museum purchase with funds provided by 2004 Collectors' Circle, 2004.24.04.91. © Carrie Mae Weems.
Presented in conjunction with Intersections in American Art and Connect Beyond Festival.
Contact:

Phone:

828.253.3227