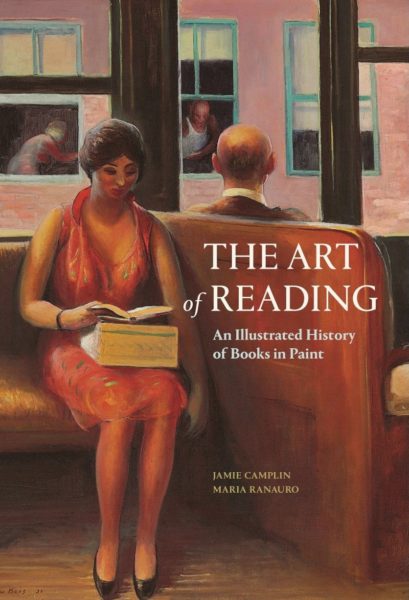 The Art of Reading: An Illustrated History of Books in Paint by Jamie Camplin + Maria Ranauro
"Why do artists love books?" This volume takes this tantalizingly simple question as a starting point to reveal centuries of symbiosis between the visual and literary arts. First looking at the development of printed books and the simultaneous emergence of the modern figure of the artist, The Art of Reading appraises works by the many great masters who took inspiration from the printed word. Bringing together more than 100 paintings that include books as part of their subject matter, this lively and companionable survey examines how the book became the single most ubiquitous feature of our cultural lives and, in large measure, of everyday existence.
Authors Jamie Camplin and Maria Ranauro weave together an engaging cultural history that probes the ways in which books and paintings represent a key to understanding ourselves and the past. Paintings not only contain a world of information about religion, class, gender, and power, but they also reveal details of everyday life often lost in history texts—and all the more so when books are depicted. Such artworks show us how books have been used and valued over time and how the significance and practice of reading have evolved in Western society.
Featuring work by artists from across Europe and the United States and all painting genres, The Art of Reading explores the 2000-year story of the great painters and the preeminent information-providing, knowledge-endowing, solace-giving, belief-supporting, leisure-enriching, pleasure-delivering medium of all time: the book.
Moderated by Kristina Aaronson.
Book + Art
This discussion is a place to exchange ideas about readings that relate to artworks and the art world, and to learn from and about each other. Books are available at Malaprop's Bookstore/Café for a 10% discount. To add your name to our Book + Art mailing list, click here or call 828.253.3227 x121.
Contact:

Phone:

828.253.3227
Venue:

Address:

55 Haywood Street




Asheville

,

NC

28801

United States

+ Google Map