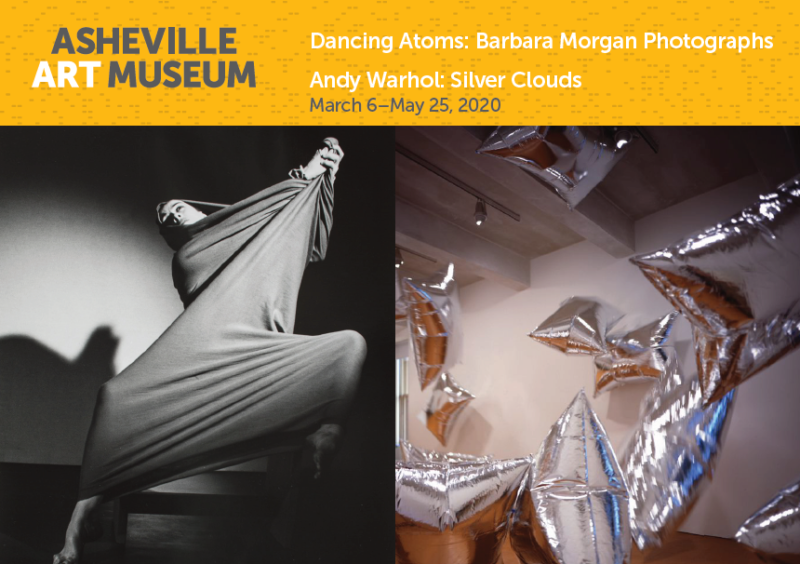 Special Preview
Individual level Members and above are invited to a special preview of Dancing Atoms: Barbara Morgan Photographs and Andy Warhol: Silver Clouds.
Director's Forum and Masterpiece Society levels only | 5–6pm
Individual level and above | 6–9pm
ALSO ON VIEW
Reverberations: Exploring Movement in the Collection
RSVP NOT REQUIRED
Thinking of joining the Museum? Discover the many wonderful benefits of membership.
Left to right: Barbara Morgan, Lamentation (Oblique), 1935 (printed 1980s), gelatin silver print on paper, image: 17 ¼ × 13 ½ inches, sheet: 19 ⅞ × 15 ⅞ inches. Black Mountain College Collection, Museum purchase, 2017.24.01. © Barbara and Willard Morgan photographs and papers, Library Special Collections, Charles E. Young Research Library, UCLA. Andy Warhol and Billy Klüver, Silver Clouds [Warhol Museum Series], 1994, helium-filled metalized plastic film (Scotchpak), each 32 × 48 × 15 inches. Collection of The Andy Warhol Museum, Pittsburgh, IA1994.13. © The Andy Warhol Foundation for the Visual Arts, Inc. / Artists Rights Society (ARS), New York. Image courtesy The Andy Warhol Museum.
Contact:

Phone:

828.253.3227