A Dance of Images and Words
The Nancy Graves/Pedro Cuperman Tango Portfolio
Dates:
September 29, 2021–January 10, 2022
Location:
The Van Winkle Law Firm Gallery
The common idiom "it takes two to tango" is immediately called into question in both the imagery and text of the Tango portfolio. Featured is a series of eight intaglio prints that depict plants and animals alongside eleven sheets of prose that explore the steps of the Argentinian dance, the tango. The portfolio expresses artist Nancy Graves and writer Pedro Cuperman's meditations on the dance. Their imagery and words become paired in an illustrated book with explorations that take different formats and directions. Both Graves and Cuperman look towards humankind and nature as a place where beings come together in the experience of living. This exhibition presents Graves's eight prints alongside the portfolio frontispiece and a page of Cuperman's text to immerse visitors in the collaborative dance of the tango.
This exhibition is organized by the Asheville Art Museum from the Museum's Collection and curated by Hilary Schroeder, assistant curator.
Selected works from the exhibition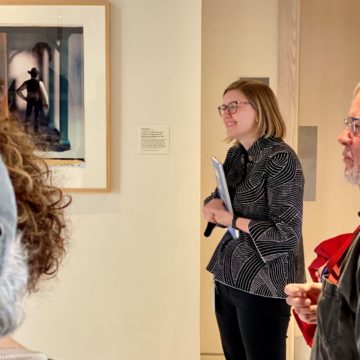 Group Tours
Groups of students or adults are invited to schedule a tour of the Museum's Collection or special exhibitions. Our inquiry-based group visits, led by volunteer docents or Museum staff, challenge visitors to hone their observation skills.
Learn More