In the Age of the Etching Revival
Prints from the Asheville Art Museum Collection
Dates:
October 12, 2022–January 23, 2023
Location:
The Van Winkle Law Firm Gallery
This exhibition presents highlights from the Asheville Art Museum's Collection by artists engaging the intaglio printmaking technique of etching in the late 19th and early 20th century. In the context of the Etching Revival movement, American artists embraced the international revival of the medium led by artist James Abbott McNeill Whistler, an expatriate equally renowned for his work as a painter and printmaker. Five etchings by Whistler in this presentation range in creation date from 1858 to 1879, and demonstrate early moments in Whistler's production in etching, including La Vieille aux Loques from Whistler's first published set of etchings created in London, Paris, and Germany.
The extent of the Etching Revival movement reached into the 1940s and 1950s and demonstrated shared interests of artists employing the medium in France, England, and the United States. Works from the Collection by American artists depict a range of subjects, featuring both cityscapes and landscapes, some of which embrace the modernity of industrialization while others depict rural environments with a nostalgia and embrace of the legacy of etchers of the Dutch Golden Age. Artists featured in this exhibition offer regional, national, and international perspectives, and include George Charles Aid, Isabel Bishop, Isac Friedlander, Betty Waldo Parish, Joseph Pennell, Ernest David Roth, J. Andre Smith, Elizabeth O'Neill Verner, and more.
This exhibition is organized by the Asheville Art Museum and curated by Alexis Meldrum, curatorial assistant.
Selected works from the exhibition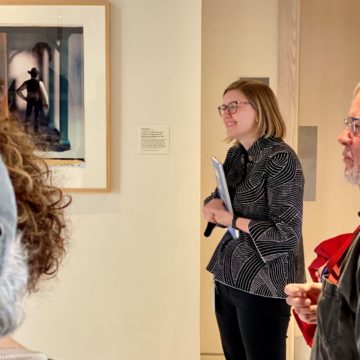 Group Tours
Groups of students or adults are invited to schedule a tour of the Museum's Collection or special exhibitions. Our inquiry-based group visits, led by volunteer docents or Museum staff, challenge visitors to hone their observation skills.
Learn More