Turning Traditions
Dates:
March 10 - May 13, 2018
Location:
Asheville Art Museum On the Slope (175 Biltmore Avenue)
Edward, Philip, and Matt Moulthrop represent three generations of Southern woodturners whose minimalist works capture the warm beauty and explore the eccentricities of wood. Each artist crafts in his own style, from Ed's large abstractions to Philip's experiments with branch "mosaics" and Matt's glassy finishes that reveal the story of the tree. While many of the Moulthrops' creations could be considered functional objects, they are regularly collected as fine art objects by major institutions. Their work is held by the White House Collection of American Crafts; The Museum of Modern Art in New York and the Smithsonian Institution in Washington, DC, among other museums; and attracts the attention of collectors such as their fellow Georgian, President Jimmy Carter.This installation features works by Ed, Philip, and Matt Moulthrop from Southeastern private collections.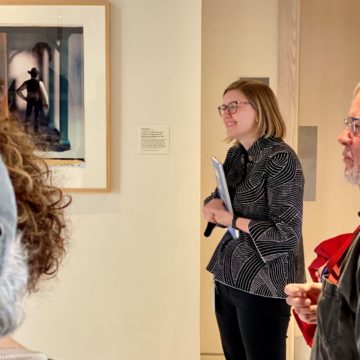 Group Tours
Groups of students or adults are invited to schedule a tour of the Museum's Collection or special exhibitions. Our inquiry-based group visits, led by volunteer docents or Museum staff, challenge visitors to hone their observation skills.
Learn More