Ernest Trova
Selections from the F.M. Manscapes Portfolio
Dates:
March 11, 2020–January 25, 2021
Location:
The Van Winkle Law Firm Gallery
Ernest Trova creates in the F.M. Manscapes portfolio a world for his iconic Falling Man figure, an every-person he saw as a symbol for a person's evolution through lived experiences. Vibrant colors, geometric patterns, and repetitive forms merge to communicate a sense of movement and environment as the prints detail the Falling Man's layered journey.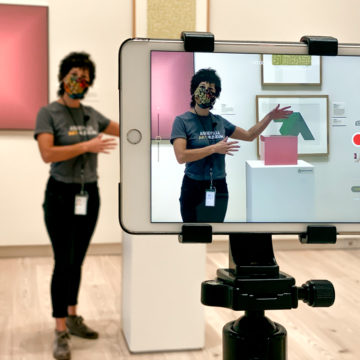 Book a Virtual Visit
Groups of students, adults, and family or friend groups with children are invited to schedule an interactive Virtual Visit to the Museum! Led by volunteer docents with Museum staff, our inquiry-based, conversational Virtual Visits introduce the Museum's galleries with a 3D tour and challenge visitors to hone their observation skills. Click to learn more about Virtual Visits for students, Virtual Visits for adults, or Virtual Visits for families.
Learn More