Rebel/Re-Belle
Exploring Gender, Agency, and Identity | Selections from the Asheville Art Museum and Rubell Museum
Dates:
September 24, 2022–January 16, 2023
Location:
Explore Asheville Exhibition Hall and Judith S. Moore Gallery
Rebel/Re-Belle: Exploring Gender, Agency, and Identity | Selections from the Asheville Art Museum and Rubell Museum combines works from two significant collections of contemporary art to explore how artists have innovated, influenced, interrogated, and inspired visual culture in the past 100 years. Expressions of identity are at the core of many artists' work, and artists have long used colors, imagery, gestures, and media to tell their stories and share their points of view. The 20th and 21st centuries are defined by movements to uplift the voices of the otherwise silenced and give agency to authentic expression. Artists working in the United States have created artworks in support of and in response to these activist movements, including the Civil Rights Movement, feminist movements, and movements for lesbian, gay, bisexual, trans, and queer (LGBTQ) rights.
Rebel/Re-Belle showcases the viewpoints of artists whose identities exist at the intersection of many lived experiences, including gender, race, and socio-economics in two sections: Rebel and Re-Belle. Featured artists in the exhibition include Anni Albers, Judy Chicago, Bessie Harvey, Wendy Red Star, and Liz Williams from the Asheville Art Museum's 74 years of collecting, and Marilyn Minter, Catherine Opie, Jennifer Rubell, Tschabalala Self, Cindy Sherman, and Mickalene Thomas from the Don & Mera Rubell's 54 years of collecting. This exhibition is organized by the Asheville Art Museum, featuring additional works from the collection of the Rubell Museum in Miami, FL, and curated by Hilary Schroeder.
Rebel/Re-Belle is organized by the Asheville Art Museum. Generous support for this project is provided by the National Endowment for the Arts. Essential support provided by April Liou and Kevin Click.
This exhibition is ticketed:
Museum Member: $7
Non-Member: $10 + general admission
Selected works from the exhibition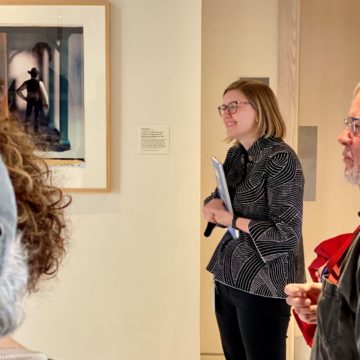 Group Tours
Groups of students or adults are invited to schedule a tour of the Museum's Collection or special exhibitions. Our inquiry-based group visits, led by volunteer docents or Museum staff, challenge visitors to hone their observation skills.
Learn More