Across the Atlantic
American Impressionism Through the French Lens
Dates:
January 22–April 19, 2021
Location:
Appleby Foundation Exhibition Hall
This extraordinary exhibition, drawn from the collection of the Reading Public Museum, explores the path to Impressionism through the 19th century in France. The show examines the sometimes complex relationship between French Impressionism of the 1870s and 1880s and the American interpretation of the style in the decades that followed.
Seventy paintings and works on paper help tell the story of the "new style" of painting which developed at the end of the 19th century—one that emphasized light and atmospheric conditions, rapid or loose brushstrokes, and a focus on brightly colored scenes from everyday life, including both urban and rural settings when artists preferred to paint outdoors and capture changing effects of light during different times of day and seasons of the year.
Artists include Edgar Degas, Pierre-Auguste Renoir, Mary Cassatt, John Singer Sargent, Berthe Morisot, and more.
The Museum collaborated with the Asheville Symphony to enhance the dynamic visual experience of Across the Atlantic through a second sense: sound. Musicians from the Symphony selected and recorded music composed in France and the United States by George Gershwin, Claude Debussy, and others at the same time as these artworks' creation. Immerse yourself in the musical experience daily at 12pm, 2pm, and 4pm, with additional streams at 6pm and 8pm on Thursday evenings. To listen to similar music at other times on your smart device, access the Asheville Art Museum's Across the Atlantic playlist on YouTube here.
Click here to view the exhibition video.
This exhibition is ticketed:
$7 Museum Members
$10 non-members + Museum admission
Please note: Guest passes for complimentary general admission are not valid for this exhibition.
Across the Atlantic: American Impressionism Through the French Lens is organized by the Reading Public Museum, Reading, Pennsylvania.
Generous support for this project provided by Art Bridges, The Maurer Family Foundation, and Bitsy & Jim Powell.
Selected works from the exhibition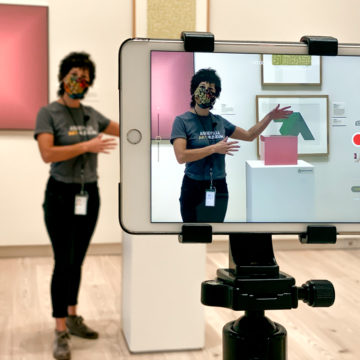 Book a Virtual Visit
Groups of students, adults, and family or friend groups with children are invited to schedule an interactive Virtual Visit to the Museum! Led by volunteer docents with Museum staff, our inquiry-based, conversational Virtual Visits introduce the Museum's galleries with a 3D tour and challenge visitors to hone their observation skills. Click to learn more about Virtual Visits for students, Virtual Visits for adults, or Virtual Visits for families.
Learn More