Fantastical Forms
Ceramics as Sculpture
Dates:
November 4, 2020–April 5, 2021
Location:
Judith S. Moore Gallery
The 25 works in Fantastical Forms: Ceramics as Sculpture highlight the Museum's Collection of sculptural ceramics from the last two decades of the 20th century to the present. Each work illustrates the artist's ability to push beyond the utilitarian and transition ceramics into the world of sculpture.  
Ceramics often serve a practical purpose, and fired clay is traditionally used to make coffee mugs, plates, and vases—many of the things we use every day and have for hundreds of years. Around 1870, ceramicists began experimenting with those functional shapes to make what they called "art pottery" as a decorative addition to one's home. After World War II more art students learned ceramics on the GI Bill; by the 1960s, artists had expanded the field even further, with some completely abandoning functionality as a prerequisite of ceramics. Those artists saw themselves as fine artists who created sculptures in clay, and eventually the art world followed suit. By the 1980s, artists who began the movement in the mid-century were well established and teaching the next generation of sculptural ceramicists.  Many of their students went on to create fantastical and imaginative forms, both abstract and figurative.  
North and South Carolina artists featured include Elma McBride Johnson, Neil Noland, Norm Schulman, Virginia Scotchie, Cynthia Bringle, Jane Palmer, Michael Sherrill, and Akira Satake. Works by American artists Don Reitz, Robert Chapman Turner, Karen Karnes, Toshiko Takaezu, Bill Griffith, and Xavier Toubes are also featured in the exhibition. 
Curated by Associate Curator Whitney Richardson.
Selected works from the exhibition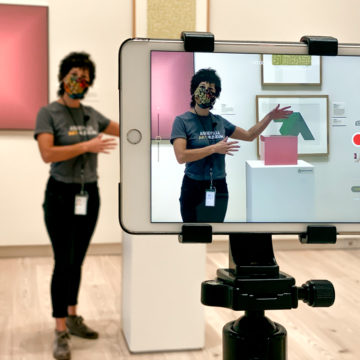 Book a Virtual Visit
Groups of students, adults, and family or friend groups with children are invited to schedule an interactive Virtual Visit to the Museum! Led by volunteer docents with Museum staff, our inquiry-based, conversational Virtual Visits introduce the Museum's galleries with a 3D tour and challenge visitors to hone their observation skills. Click to learn more about Virtual Visits for students, Virtual Visits for adults, or Virtual Visits for families.
Learn More