Our Strength Is Our People
The Humanist Photographs of Lewis Hine
Dates:
May 7–August 2, 2021
Location:
Appleby Foundation Exhibition Hall
This exhibition surveys the life's work of Lewis Wickes Hine (1874–1940), the father of American documentary photography. Consisting entirely of 65 rare vintage prints, it covers the three overarching themes of Hine's three-decade career—the immigrant experience, child labor, and the American worker—and culminates in his magnificent studies of the construction of the Empire State Building.
Our Strength Is Our People coincides with the complementary exhibition, Old World/New Soil: Foreign-Born American Artists from the Asheville Art Museum Collection.
Our Strength Is Our People is organized by art2art Circulating Exhibitions, LLC. All works are from the private collection of Michael Mattis & Judith Hochberg. Local support is generously provided by the Workers' Legacy Foundation.
Selected works from the exhibition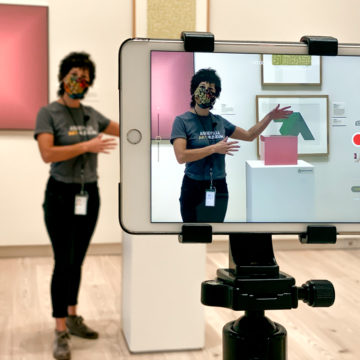 Book a Virtual Visit
Groups of students, adults, and family or friend groups with children are invited to schedule an interactive Virtual Visit to the Museum! Led by volunteer docents with Museum staff, our inquiry-based, conversational Virtual Visits introduce the Museum's galleries with a 3D tour and challenge visitors to hone their observation skills. Click to learn more about Virtual Visits for students, Virtual Visits for adults, or Virtual Visits for families.
Learn More