Old World/New Soil
Foreign-Born American Artists from the Asheville Art Museum Collection
Dates:
May 7–August 2, 2021
Location:
Appleby Foundation Exhibition Hall
Inspired by the book Immigrant Gifts to American Life: Some Experiments in Appreciation of the Contributions of Our Foreign-Born Citizens to American Culture written in 1932 by Allen H. Eaton, a contemporary of Lewis Hine, the exhibition Old World/New Soil calls attention to the collection of works the Museum has acquired from artists who came to the United States either at their own prompting or out of necessity. Just as they adopted America as their new home, we have in turn embraced them, their creative output, and their artwork.
This exhibition coincides with Our Strength Is Our People: The Humanist Photographs of Lewis Hine. 
Old World/New Soil: Foreign-Born American Artists from the Asheville Art Museum Collection is curated by Associate Curator Whitney Richardson.
Selected works from the exhibition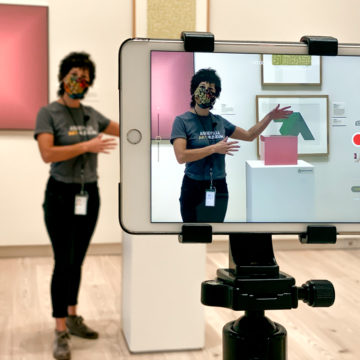 Book a Virtual Visit
Groups of students, adults, and family or friend groups with children are invited to schedule an interactive Virtual Visit to the Museum! Led by volunteer docents with Museum staff, our inquiry-based, conversational Virtual Visits introduce the Museum's galleries with a 3D tour and challenge visitors to hone their observation skills. Click to learn more about Virtual Visits for students, Virtual Visits for adults, or Virtual Visits for families.
Learn More