Beauford Delaney's Metamorphosis into Freedom
Dates:
April 2, 2021–June 21, 2021
Location:
Explore Asheville Exhibition Hall
Featuring more than 40 paintings and works on paper, Beauford Delaney's Metamorphosis into Freedom examines the career evolution of modern painter Beauford Delaney (Knoxville, TN 1901–1979 Paris, France) within the context of his 38-year friendship with writer James Baldwin (New York 1924–1987 Saint-Paul-de-Vence, France).
The works in this exhibition bring into special focus Delaney's intensified experiments with abstraction sparked by the artist's 1955 move to the Paris suburb of Clamart, as well as the ways that the artist and Baldwin's ongoing intellectual exchange shaped one another's creative output and worldview from their first meeting in 1940 until Delaney's death in 1979. This exhibition also calls attention to Baldwin's role as "witness" to the painter's evolution, which he deemed "one of the most extraordinary personal and artistic journeys of our time."
Baldwin found in Delaney a father figure, muse, and model of perseverance as a gay man of color, who opened for him the transformative possibility that a Black man could become an artist. Delaney found in Baldwin a powerful intellectual and spiritual anchor who inspired some of his finest works and who provided vital emotional support and creative validation. Amidst this selection of works, Delaney's Clamart abstractions represent the pinnacle of his artistic achievements and the fullest realization of his lifelong search to express metaphysical concepts of light and movement. In an essay for a 1964 show at Galerie Lambert, Baldwin noted Delaney's extraordinary painted light was such that it "held the power to illuminate, even to redeem and reconcile and heal."
Beauford Delaney's Metamorphosis into Freedom is organized by the Knoxville Museum of Art, which owns the largest and most comprehensive public collection of Beauford Delaney's art.
Selected works from the exhibition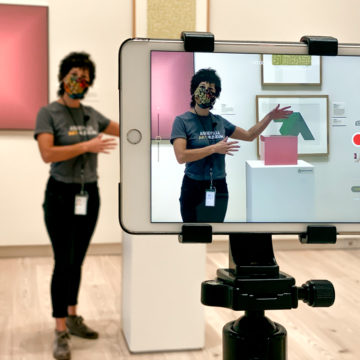 Book a Virtual Visit
Groups of students, adults, and family or friend groups with children are invited to schedule an interactive Virtual Visit to the Museum! Led by volunteer docents with Museum staff, our inquiry-based, conversational Virtual Visits introduce the Museum's galleries with a 3D tour and challenge visitors to hone their observation skills. Click to learn more about Virtual Visits for students, Virtual Visits for adults, or Virtual Visits for families.
Learn More