The year 2021 marks the 60th anniversary of the beginning of the Apollo space program at NASA, but that was hardly the beginning of humankind's fascination with Earth's only moon. Before space travel existed, the moon—its shape, its mystery, and the face we see in it—inspired countless artists. Once astronauts landed on the moon and we saw our world from a new perspective, a surge of creativity flooded the American art scene, in paintings, prints, sculpture, music, crafts, film, and poetry. This exhibition, whose title is taken from a 1913 Robert Frost poem, examines artwork in the Asheville Art Museum's Collection of artists who were inspired by the unknown, then increasingly familiar moon.
Meeting the Moon includes works by nationally renowned artists Newcomb Pottery, James Rosenquist, Maltby Sykes, Paul Soldner, John Lewis, Richard Ritter (Bakersville, NC), and Mark Peiser (Penland, NC). Western North Carolina artists include Jane Peiser (Penland, NC), Jak Brewer (Zionville, NC), Dirck Cruser (Asheville, NC), George Peterson (Lake Toxaway, NC), John B. Neff (NC), and Maud Gatewood (Yanceyville, NC).
To accompany Meeting the Moon, the Museum has built a playlist in YouTube to complement and deepen the experience of the exhibition. The playlist, available here, is in chronological order and highlights some of the best-known Western (and mostly English-language) music, poetry, and spoken word that references the moon. Before 1961 the moon was often used as a metaphor for romance, and afterwards, meanings of exploration were often attached to it. The YouTube playlist is in no way exhaustive, but its works were in the curator's mind as she put the exhibition together. It is meant to supplement the exhibition and illustrate how pervasive allusions to the moon are in our daily lives.
This exhibition is organized by the Asheville Art Museum and curated by Whitney Richardson, associate curator.
Asheville Art Museum is a recipient of the 2021 Southeastern Museums Conference Bronze Award in the Under $10,000 category for Meeting the Moon. The SEMC Exhibition Competition showcases the best in our profession and provides benchmarks for regional exhibition efforts in southeastern museums.
Selected works from the exhibition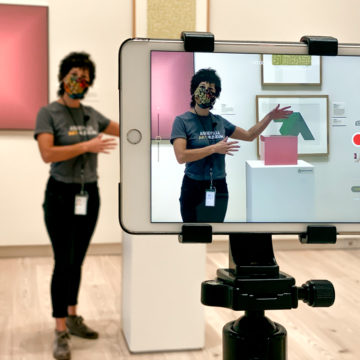 Book a Virtual Visit
Groups of students, adults, and family or friend groups with children are invited to schedule an interactive Virtual Visit to the Museum! Led by volunteer docents with Museum staff, our inquiry-based, conversational Virtual Visits introduce the Museum's galleries with a 3D tour and challenge visitors to hone their observation skills. Click to learn more about Virtual Visits for students, Virtual Visits for adults, or Virtual Visits for families.
Learn More