Vantage Points
Contemporary Photography from the Whitney Museum of American Art
Dates:
December 18, 2020–March 15, 2021
Location:
Explore Asheville Exhibition Hall
Vantage Points: Contemporary Photography from the Whitney Museum of American Art  features a selection of photographic works from the 1970s to the mid-2000s that highlights how photography has been used to represent individuals, places, and narratives. Drawn exclusively from the Whitney's permanent collection, this presentation includes approximately 20 artists, including Diane Arbus, Richard Avedon, Gregory Crewdson, William Eggleston, Nan Goldin, Peter Hujar, Robert Mapplethorpe, Cindy Sherman, Lorna Simpson, and Andy Warhol. 
These artists began working at a time when photography was becoming increasingly integrated into the art world. Technological developments permitted them to use many different photographic processes and to print their works in various sizes, including ones that would create an immersive impact. The photographs included in this exhibition range from seemingly straightforward representations to those with an imaginative or conceptual perspective that challenge traditional notions of photography as revealing a singular reality. 
This selection of works from the permanent collection of the Whitney Museum reveals the strength of the photographic image in the late 20th and early 21st century in the United States. In surprising and inventive ways, the artists included in this presentation have pushed the boundaries of the medium and expanded the role of photography within the history of art. 
This exhibition was organized by the Whitney Museum of American Art, New York, and curated by Carrie Springer, assistant curator, Whitney Museum. Additionally, Vantage Points was organized around transformative gifts and promised gifts to the Whitney Museum from Emily Fisher Landau. 
Generous support for this project provided by Art Bridges. 
Banner image: Sally Mann, Sorry Game (detail), 1989, gelatin silver print, image: 19 5/8 × 23 5/16 inches, sheet: 19 15/16 × 23 13/16 inches. Whitney Museum of American Art, New York, gift of The Bohen Foundation, 2002.349. © Sally Mann, image courtesy Whitney Museum of American Art.
Selected works from the exhibition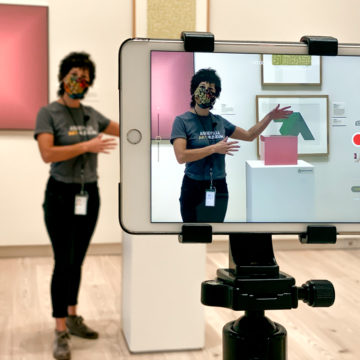 Book a Virtual Visit
Groups of students, adults, and family or friend groups with children are invited to schedule an interactive Virtual Visit to the Museum! Led by volunteer docents with Museum staff, our inquiry-based, conversational Virtual Visits introduce the Museum's galleries with a 3D tour and challenge visitors to hone their observation skills. Click to learn more about Virtual Visits for students, Virtual Visits for adults, or Virtual Visits for families.
Learn More